Your Media Morning: AMI and Meredith Teaming up On Time Inc? Hearst Magazines' Earnings Growth, Conde Nast Braces For Changes...
CONDE NAST STAFF BRACES FOR RESTRUCTURING, LAYOFFS
The first moves will happen at the end of next week when new Creative Director Raúl Martinez — the new right-hand man to Artistic Director and Vogue Editor Anna Wintour — finally gets all the company's creative directors, design professionals and photo/visual people relocated on the 21st floor of One World Trade Center.
TIME INC BRINGS IN MUSIC BIGS TO CELEBRATE LAUNCH OF 2017 SI SWIMSUIT ISSUE
Time Inc.'s Sports Illustrated will celebrate the launch of its 2017 swimsuit issue with a two-day music, food and culture festival "VIBES" by Sports Illustrated Swimsuit—to be held in Houston on
February 17-18
. The first-of-its-kind event will feature live performances by GRAMMY™ Award-winning artists Diplo and Miguel; a food festival curated by Houston's James Beard Award-winning chef Chris Shepherd and special appearances by the models of Sports Illustrated Swimsuit Class of 2017.
TRIBUNE RELAUNCHES REDEYE AS WEEKLY PUBLICATION IN CHICAGO
RedEye, the Chicago Tribune's 15-year-old free daily commuter newspaper, is shifting to a weekly format with a focus on food and entertainment. Beginning in February, RedEye will be published on Thursdays only, putting its "Eat. Drink. Do." feature at the center of what it bills as a weekend planning guide.
DID VICE MEDIA LOSE ITS BIGGEST SOURCE OF TRAFFIC?
Render Media, a small LA social media company that emerged as the single biggest traffic generator in the Vice Media network last year, is no longer part of Shane Smith's network. Vice Media, which is valued at $4 billion-plus and might be on the brink of an IPO, downplayed the loss — saying Render generates only a tiny portion of its revenue.
HOW SOME PUBLISHERS ARE ATTRACTING NEW TRAFFIC WITH OLD CONTENT
A couple years ago, publishers decided they had to start wringing more money out of their old content. Today, some of them are practically selling the photos that hang on their office walls, but the fruits of these labors are sprouting: The Atlantic, which uses archival material on both the print and digital sides of its business, now generates more than a quarter of its traffic every month from older content. At publications like Business Insider, the figure is even higher, and for lifestyle-focused publications like Refinery29 it's higher still: 35 percent, and growing, the company said.
MAJOR MEDIA DEALS IN THE TRUMP ERA?
Liberty Media chief John Malone said the Trump presidency could open a new era of consolidation and raised the possibility that three major cable TV companies could join forces and enter the wireless business by acquiring T-Mobile US. The cable billionaire said he expects less-restrictive regulatory oversight from the Donald Trump administration.
DISNEY BUYING NETFLIX MAY NOT BE SUCH A GOOD IDEA
Omar Sheikh of Credit Suisse says it is getting more difficult to justify the acquisition of Netflix by Disney, an idea that has been floated in both entertainment industry and Wall Street circles for the last few weeks. The analyst argues that trends in TV are improving, making it increasingly difficult to justify what would be a $70 billion purchase.
FORMER HLN HOST NANCY GRACE LAUNCHES CRIME WEBSITE
Nancy Grace
on Tuesday
launched a new digital media venture that aims to be the one-stop-shop for those interested in crime news. The website,
Crime Online
, will feature stories on various criminal cases, provide information on missing people, and offer resources for readers to combat crime.
VIACOM'S NICKELODEON LAUNCHES READING APP FOR KIDS
Nickelodeon already has solid footing in the digital space with its lineup of over 40 preschool apps and games and its own streaming service, Noggin. Now, the entertainment brand is making its move into e-books. The company has just launched its first ever reading app aimed at kids.
FACEBOOK'S PROFIT WILL BE OVER $10 BILLION IN 2017
In 2011, Facebook's total net income was $1 billion. Fast forward to 2017 and the social network could very well generate over $10 billion in profits this year alone. Facebook's growth has surprised everyone, sending shares up 227% since the company went public in 2012.
MYSPACE FOUNDER MAY TAKE HIS MOBILE GAME START UP PUBLIC
Chris DeWolfe became a tech industry celebrity as co-founder of MySpace, the social networking site that got clobbered by Facebook. With his new venture Jam City, he's out to prove he can build another startup with a multi-hundred-million-dollar market value and this time make it last. "We monetized MySpace too hard, too early," DeWolfe said.
HEARST MAGAZINES PRESIDENT DAVE CAREY, TOUTS EARNINGS GROWTH
Hearst is privately held, so earnings are difficult to confirm. But the president of Hearst Magazines claimed that the division has managed to grow its earnings for the third straight year, "perhaps the only major publisher that can make that statement," David Carey said.
-Good Morning
Your Media Morning: AMI and Meredith Teaming up On Time Inc? Hearst Magazines' Earnings Growth, Conde Nast Braces For Changes...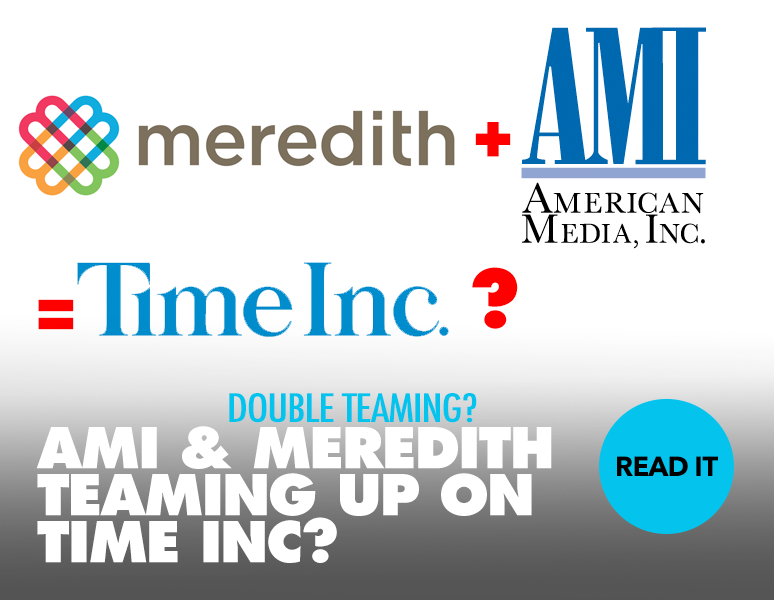 Reviewed by
Editor
on
5:00 AM
Rating: