Us Weekly Staffers Fears Come True as The Celebrity News Publication is Sold Off to Tabloid King American Media Inc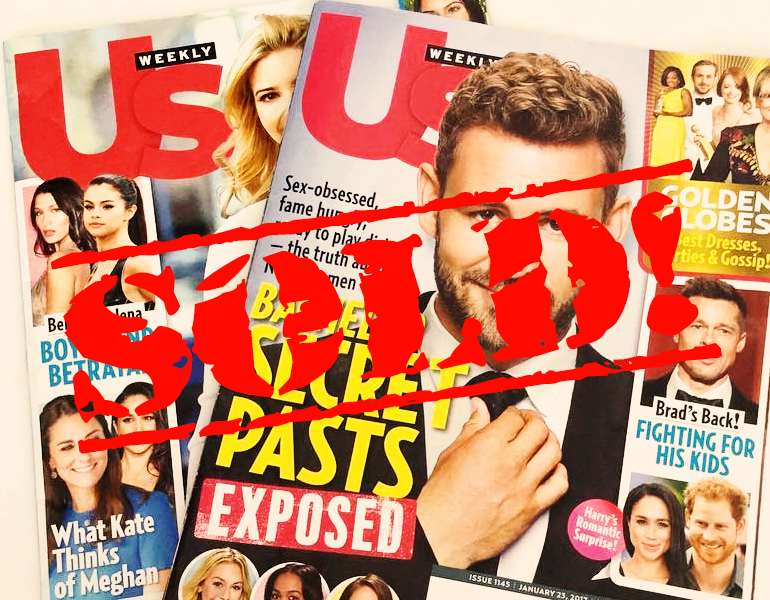 Jann Wenner who has been struggling to offload Us Weekly for months, finally got someone on the hook. Just last week it was reported that Tronc the newspaper publisher formerly known as Tribune Publishing was close to buying the publication but that deal fell apart at the last minute reopening the door for American Media Inc which publishes tabloids like National Enquirer and celebrity gossip weeklies like Star and OK. Originally it was American Media Inc that was close to a deal to buy Us Weekly. Jann Wenner even went as far as to order the magazine to publish pro Trump covers in an attempt to entice American Media Inc CEO David Pecker who is long time friend of Trump and a supporter. But those gestures weren't enough and the deal was scrapped which opened the door for Tronc. However today, it looked like AMI had a change of heart and struck a deal to buy the magazine from Wenner for a reported $100 million.
Us Weekly staffers who thought they avoided becoming part of the tabloid publisher are now no doubt terrified of what's to come. AMI which has been laying off staffers every chance it gets in an effort to shave costs, will definitely swing the axe on Us Weekly, partially gutting editorial and back end functions. Currently AMI has skeletal staffers working across its brands recycling the same stories, but just repackaging it based on the publication/website it is being recycled on/in. The deal brings AMI an additional 50 million consumers across Us' platforms. As for Wenner Media, the company gets to pay down some legal debt and turn all its focus and resources to its remaining properties like the flagship Rolling Stone magazine, Men's Journal and the recently launched gaming site Glixel. In September of last year Wenner Media sold a 49% stake in Rolling Stone magazine to Singapore based BandLab Technologies.
[post_ad]
Us Weekly Staffers Fears Come True as The Celebrity News Publication is Sold Off to Tabloid King American Media Inc

Reviewed by
Editor
on
Wednesday, March 15, 2017
Rating: