Your Media Morning: Time Inc Cuts 30, Esquire Network Shuts Down, Forget About Scale, Netflix Booms, Washington Post Introduces 'The Lily'
ESQUIRE NETWORK SHIFTING FROM CABLE TO ESQUIRE.COM
Esquire Network, which was a partnership between the Comcast Corp.-owned NBC Universal and Hearst Magazines, is getting off the small screen and moving to digital. The channel, which launched in September 2013 was inspired by Hearst's men's magazine Esquire. Unfortunately for Hearst and NBC Universal, the channel never really seemed to take off.
NY TIMES NAMES THE NEPHEW OF ITS CHAIRMAN + PUBLISHER, TO LEAD THE WIRECUTTER
The newspaper has named David Perpich, the nephew of chairman and publisher Arthur Ochs Sulzberger Jr., as president and general manager of The Wirecutter. In October, Sulzberger's 36-year-old son A.G. was elevated to deputy publisher, reporting to his father. At the time, there were reports that there had been three candidates for the job as heir apparent to "Pinch" Sulzberger — and Perpich was one of them.
SOME PUBLISHERS ARE ABANDONING 'SCALE'
After years of making scale the name of the game, a number of publishers are retreating from scale. While most still rely heavily on traffic generated from aggregation, or repurposing information published elsewhere, or highlighting trending content, newer publishers like The Outline, The Ringer and Axios are either ignoring aggregation and fast-twitch tactics altogether or using them far less. The legacy players are trying to minimize the cost of producing that content and finding ways to wring more money out of it.
ATLANTIC MEDIA EXPANDING AGENCY SERVICES
Today's publishers have to think about more than just advertising and subscription revenue. The latest examples include millennial women-aimed Bustle, which has launched research arm Bustle Trends Group; and Atlantic Media Strategies, which is increasing its consulting firm-like services. One obvious risk of branching out into a new business line, however, is that it can put publishers in competition with firms that are already established in the field.
FOX INSTALLS PRESIDENT TO LEAD ITS NEWLY CREATED VR DIVISION 'FOXNEXT'
Salil Mehta has been tapped as the man to lead Fox into the virtual reality age, as he has been named president of newly-created division FoxNext, which will oversee video gaming, location-based entertainment, virtual and augmented reality productions for the studio.
NETFLIX ADDS OVER 7 MILLION NEW SUBSCRIBERS, HITS RECORD HIGH
Netflix reported $2.47 billion in revenue during Q4 2016, and earnings per share of 15 cents. The streaming giant wildly beat its original projections for subscriber additions, bringing in 7.05 million new customers compared to its Q3 estimate of 5.2 million. The majority of adds were from international viewers.
CNN CHIEF JEFF ZUCKER TALKS TRUMP, TIME WARNER AND AT&T
Our viewership continues to be significantly higher than it was a year ago and frankly much higher than we expected it to be. There's been no evidence of any falloff at all. I think people are coming to us because they know we'll report both sides of the story. We expected we'd be down 25 percent from last year because you had all the election nights, debates, and conventions, but if the first three weeks of this year are any indication, I'm not so sure it will be down that much.
RICHARD "MAD DOG" BECKMAN JOINS THE NEWLY CREATED GROUP NINE MEDIA AS REVENUE CHIEF
The Discovery Communications-backed company has appointed publishing veteran Richard Beckman as its chief revenue officer to lead its advertising efforts and has tapped former Discovery Digital executive Suzanne Kolb to oversee marketing and content creation as its chief brand officer. Beckman, who most recently served as CRO at Vice Media, has spent more than three decades in the publishing business, serving as president of Conde Nast Media Group for five years before becoming president and chief executive of Fairchild Fashion Group.
SNAP INC CONTINUES ITS HIRING SPREE
Messaging app owner Snap Inc has hired Jennifer Park Stout, former deputy chief of staff to the U.S. Secretary of State, as its head of global public policy, a spokeswoman told Reuters
on Wednesday
. Stout started at the company "recently," the spokeswoman said.
VOICE MEDIA IS GETTING OUT OF THE PRINT BUSINESS, SELLING LA WEEKLY
LA Weekly is for sale. Voice Media Group, which acquired Los Angeles' most prominent alternative weekly newspaper from Village Voice Media Holdings in 2012, has put the title on the market, touting its profitability and 3 million-plus users of the
laweekly.com
website each month.
WASHINGTON POST TAKING A SHOT AT MILLENNIAL WOMEN WITH 'THE LILY'
The Lily, an experimental, visually-driven product designed for millennial women that will boldly reimagine The Post's award-winning journalism for distributed platforms. The brainchild of The Post's Emerging News Products team, The Lily will emphasize platform-specific storytelling, integrating smart content with striking visuals to inform and entertain. The Lily will appear on Medium, Facebook and Instagram to start.
IS THE HONEYMOON OVER FOR NEW MEDIA COMPANIES?
Venture capitalists and media giants have invested heavily in online publishers like Business Insider, BuzzFeed, Vox and Vice, but that's starting to fizzle out as the private equity bubble continues to deflate. Venture deals hit a multiyear low last quarter, and so did investments in media startups, according to CB Insights. Meanwhile, Medium recently laid off a third of its staff, Salon saw major budget cuts last year, and BuzzFeed slashed its 2016 revenue forecast in half.

-Good Morning
[post_ad]
Your Media Morning: Time Inc Cuts 30, Esquire Network Shuts Down, Forget About Scale, Netflix Booms, Washington Post Introduces 'The Lily'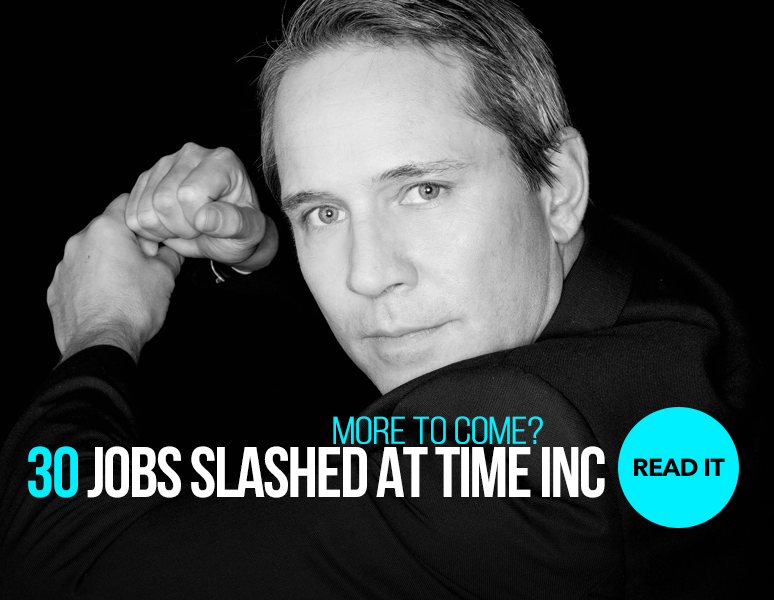 Reviewed by
Editor
on
10:17 AM
Rating: