Time Inc Kills All You And 30 Jobs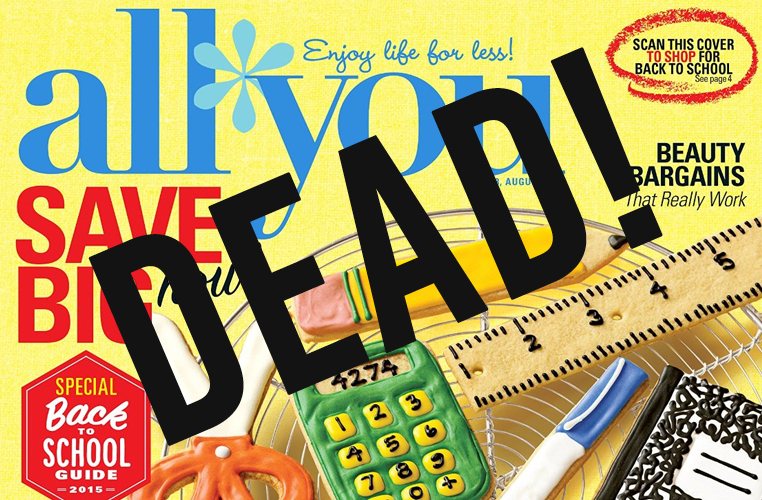 In the smoke of the big news that it spent probably $20 million to buy Hellogiggles.com and is possiby in talks to buy xoJane.com, comes even more news out of Time Inc that is closing shop on its 11 year old magazine All You. Time Inc is killing the magazine which flew off the shelves of Walmart in its early days but ended up on the declining side when Source Interlink went belly up and Time Inc ended its exclusive relationship with Walmart. For now Group Editor Clare McHugh and Group Publisher Greg Schulman will stick around at Time Inc thanks to the fact that they have other responsibilities outside of All You. Unfortunately, a reported 30 staffers who worked on All You weren't as lucky.
Time Inc EVP Evelyn Webster on the move:
As part of our ongoing transformation, we are constantly evaluating our portfolio of brands and products, examine existing assets and assessing their ability to deliver meaningful growth into the future. … All You has faced a particularly difficult landscape in the shopper marketing space as well as endemic newsstand challenges."

Webster also pointed out that the company recently said it would begin distributing a US version of the trendy British design and lifestyle title Wallpaper. Time Inc. has also expanded the Sports Illustrated brand with a number of smaller acquisitions.
more»
[post_ad]
Time Inc Kills All You And 30 Jobs

Reviewed by
Editor
on
10/19/2015
Rating: