Time Inc Buys HelloGiggles.com For Close to $20 Million, Will Fold it Into People.com And EW.com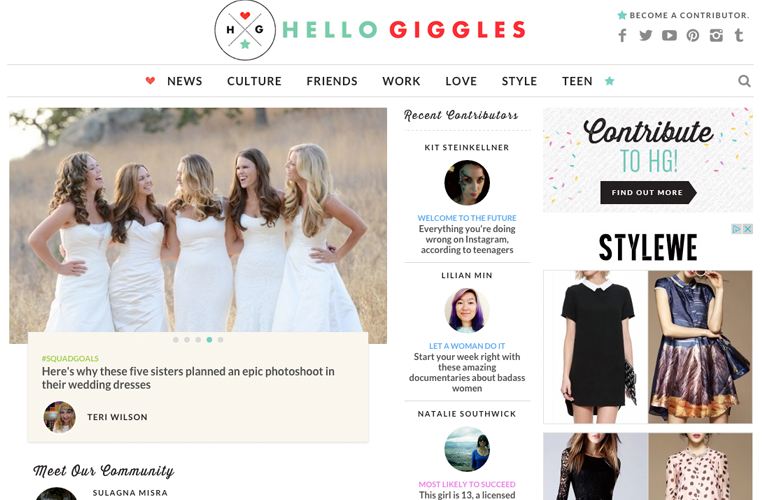 Time Inc snapped up Hellogiggles.com a pop culture, beauty website for close to $20 million in a move said to have been lead by Rich Batista the President of People/Entertainment Weekly. Hellogiggles.com will be folded into People.com and EW.com. The deal follows a partnership formed earlier this year between Hellogiggles and People.com around advertisement.
HelloGiggles.com attracted 11 million unique visitors in September, up from 721,000 in September 2013, according to measurement firm comScore Inc. The websites for People and Entertainment Weekly, by comparison, drew 32.7 million and 18.6 million unique visitors, respectively, in September. Time Inc. has so far focused on a series of modest digital acquisitions, the company's executives say, rather than potentially overpaying for larger sites with much higher valuations. What's unclear is whether such deals can meaningfully compensate for ongoing declines in print ad and newsstand sales. Time Inc. has forecast that its 2015 revenue will decline 3% to 6%.
This deal comes on the heels of Friday evening's news that Time Inc
was in talks to acquire xoJane.com
from Say Media. [post_ad]
Time Inc Buys HelloGiggles.com For Close to $20 Million, Will Fold it Into People.com And EW.com

Reviewed by
Editor
on
10/18/2015
Rating: