Time Inc's Travel And Leisure Enjoying Social/Digital Media Audience Growth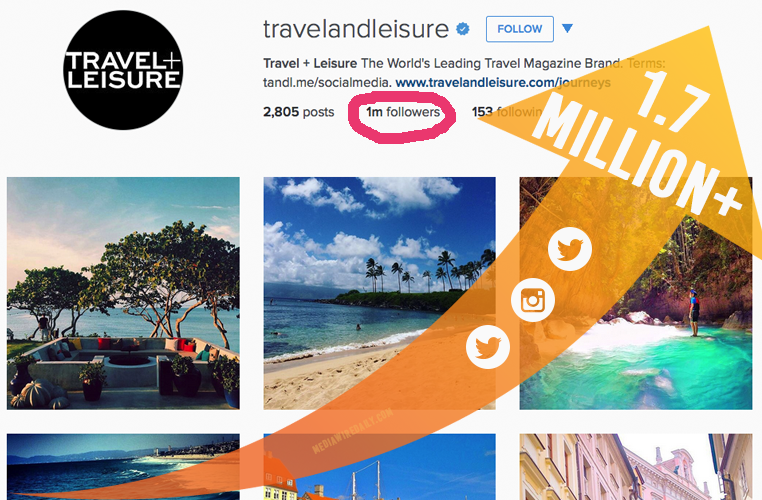 Not to be outdone by July digital performance news from other publications, Time Inc's Travel and Leisure shared some impressive news of their own this morning about their digital and social media performance. In addition to entering the upper echelons of Instagram with 1 million followers, the recently revamped TravelandLeisure.com had a solid July with 3.3 million total unique visitors which is a record for them. Naturally Editor in Chief Nathan Lump is thrilled and credits an increase in original content and focus on standout visual content for the improved performance. Here is the press release below touting the gains.
Time Inc.'s Travel + Leisure Continues Growth Trend,
Posting Double-Digit Increases in Digital + Social
Travel + Leisure Hits One Million Followers on Instagram
New York, NY (September 15, 2015) - Just months after a sweeping redesign of the magazine and relaunch of the digital platform, Time Inc.'s Travel + Leisure is experiencing across-the-board digital and social growth. Most recently, the brand passed one million followers on its Instagram channel and, according to comScore, its July audience of 3.3 million total uniques set a record for the month for the franchise.
Travel + Leisure growth highlights are as follows:
For the month of July, the number of unique visitors to the website grew 78 percent year-over-year, with mobile posting a 139 percent jump, according to comScore.
The number of followers of all T+L social media channels has increased 72 percent since the relaunch of Travel + Leisure in April.
The number of followers on Instagram and Facebook each passed the one million mark in the past month, and Twitter remains strong, with more than 1.7 million followers.
July set a record in the number of referrals from social to travelandleisure.com.
Momentum in print continued as well, with ad pages up 11 percent year-over-year for January - September.
Notably, this news comes as Travel + Leisure Editor Nathan Lump celebrates his one-year anniversary as editor of the T+L brand, having assumed the role in September 2014.
Lump said, "It's thrilling to see the dramatic growth of our digital and social footprint, underscoring both the strength of the T+L brand among consumers and the success of our relaunch efforts. There are several key drivers of our growth, including our exponential increase in the amount of original content published daily, as well as our focus on standout visual content which not only plays well on our site but resonates with our audience across social media platforms, particularly Instagram. What's more, we're doing this as the print product continues to thrive as the largest-circulation travel title out there."
Jay Meyer, VP/Publisher of Travel + Leisure, added, "The breadth of our audience combined with our strong engagement across platforms is a huge value proposition that brings real opportunity to our partners looking to inspire frequent travelers in new and creative ways."
[post_ad]
Time Inc's Travel And Leisure Enjoying Social/Digital Media Audience Growth

Reviewed by
Editor
on
9/15/2015
Rating: