Time Inc Launches Its Car Enthusiasts Website TheDrive.com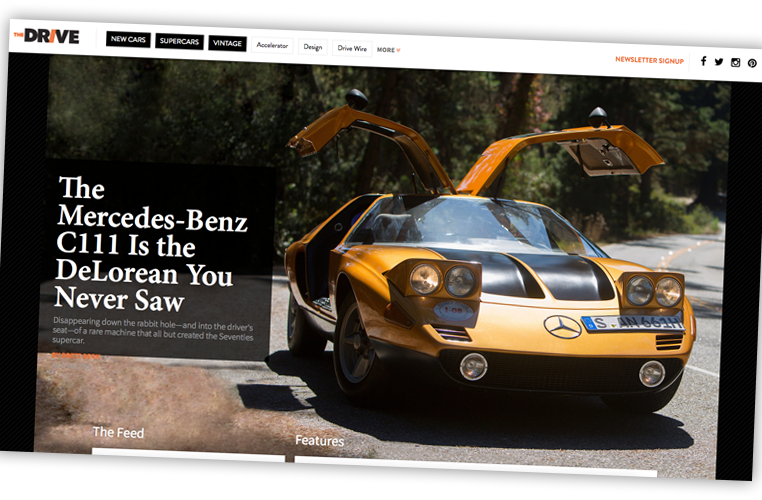 The Drive, a digital destination for die hard car enthusiasts and another effort by Time Inc to further its new digital strategy has launched.
Announced back in July
, the site is billed as a new automotive destination that celebrates cars and automotive culture. Overseen by former Entertainment Weekly Editor Matt Bean and lead by Mike Guy as Editor, the site has a team of 23. The team spent the last month or so Flooding the site with content while ads chief Edouard Portelette was busy bringing on big name advertisers like Volvo, Penzoil and the GM Buy Powercard. The site goes up against other automobile enthusiasts destinations with cult like followings like Gawker Media's Jalopnik, Car and Driver, Road and Track and others. The site is split into three main focus areas. New Cars, Super Cars and Vintage. It also touches on design, Travel and Technology. It carries popular worthy features like "Crash Diaries" which tells the stories of accidents that either the writer of the article experienced as a young driver or of other individuals. Then there are catchy share worthy headlines like "
Why Willie Nelson Should Be Google's Self-Driving Car CEO", "
The 8 Worst Haircuts in NASCAR History"
and "
Eight Great Racing Games That Will Make You Feel Old"
[post_ad]
Time Inc Launches Its Car Enthusiasts Website TheDrive.com

Reviewed by
Editor
on
9/15/2015
Rating: