From President of ABC News to On Air Personality For Bloomberg TV, David Westin You're On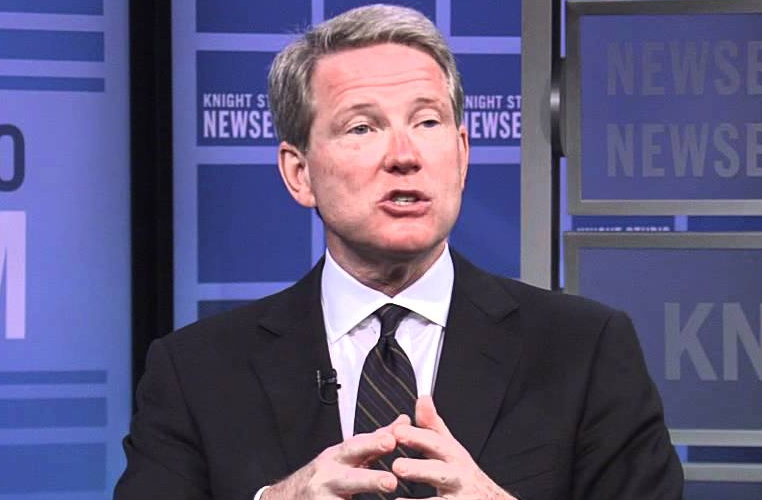 Yesterday Bloomberg Media announced the addition of a new TV personality to its line up. David Westin the man who once ran ABC News for over a decade, is now joining the the other side, a side he once reigned supreme over as head of a major news network. Mr. Westin will join the Bloomberg cable network later on this month as its newest on air talent. Here is the full press release:
David Westin to Join Bloomberg TV as On-Air Personality
Bloomberg announced today that David Westin would join Bloomberg Television as an on-air personality starting later this month.
Westin was the president of ABC News from 1997 through 2010. He oversaw the network's global coverage including the 2008 economic crisis, the wars in Afghanistan and Iraq, the 9/11 attacks and their aftermath. He also led the news division through a robust period of innovation, guiding it into the digital age with pioneering new platforms, such as ABCNews.com and the live streaming service, ABCNewsNow.
Westin said: "I've worked alongside some of the best TV journalists in the business, and now I'm looking forward to being the one asking the questions and reporting the news, helping to help carry on the tradition of award-winning journalism at Bloomberg."
He currently is principal of Witherbee Holdings LLC where he advises companies on
digital and media issues.
Claudia Milne, Global Head of Bloomberg Television, said: "David has an accomplished background in television news. He's an exceptional business leader, a smart lawyer, an expert on media and journalism, and a calm, intelligent presence on the air. He will be a great addition to Bloomberg Television."
During Westin's tenure at ABC News, the news organization earned 11 George Foster Peabody Awards, 13 Alfred I. DuPont Awards, four George Polk Awards, more than 40 News & Documentary Emmys and more than 40 Edward R. Murrow Awards.
Before taking the helm at ABC News, Westin was President of the ABC Television Network and General Counsel of the parent company, Capital Cities/ABC. He was a partner and associate at Wilmer, Cutler & Pickering in Washington and, immediately after law school, clerked for J. Edward Lumbard on the Second Circuit and for Lewis F. Powell on the Supreme Court. He serves on the boards of the Newseum, Save the Children, and the City University of New York Journalism School.
From President of ABC News to On Air Personality For Bloomberg TV, David Westin You're On

Reviewed by
Editor
on
6/09/2015
Rating: