The Atlantic Brings on Vanity Fair's Bill Mulvihill as Associate Publisher
The good looking Mr.Mulvihill will oversee the global sales team and help lead advertising efforts across all of its platforms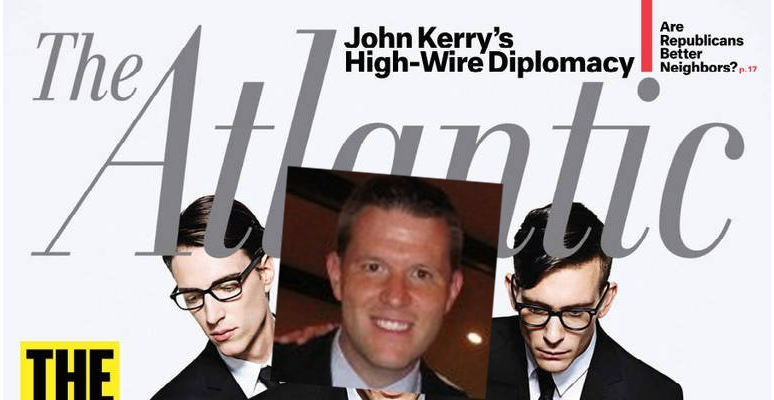 With record revenue and web traffic, The Atlantic is looking to close out 2014 on a high note. Sure they
killed TheWire.com
because it wasn't catching on, but that, like we said is minor blip if at all compared to the other successes the company has been enjoying. The company continues to beef up its work force with hires across its properties. Their latest hire comes from Conde Nast's Vanity Fair. The company said it has named Bill Mulvihill as the Associate Publisher of The Atlantic, its flagship publication. Here is the full press release:
The Atlantic
Names Bill Mulvihill Associate Publisher
Mulvihill Joins VP and Publisher Hayley Romer During Record Revenue Year for
The Atlantic

Washington, D.C. (September 24, 2014)—Atlantic Publisher and Vice President Hayley Romer announced today that Bill Mulvihill will join the company next month as Associate Publisher. Working closely with Romer, Mulvihill will oversee the global sales team and help lead advertising efforts across all of its platforms.

Mulvihill has spent his career in publishing, and joins The Atlantic after more than three and a half years with Vanity Fair, most recently as its national advertising director. He previously held leadership sales roles at Entertainment Weekly, The Week, and Cookie magazines.

"Bill is a venerable talent in the business, with a great wealth of experience and strong connections with stellar brands," said Romer. "We are thrilled to welcome him to The Atlantic."

Mulvihill joins The Atlantic during a time of record audience and revenue growth. Print and digital ad revenue has reached record highs, with Romer's sales and marketing teams generating dozens of large-scale programs with new and existing partners, among them Adobe, athenahealth, Siemens, CNN, and Omega. As Associate Publisher, Mulvihill will, with Romer, direct a team of sales professionals based around the country.

"The Atlantic is a brand I've long admired, and joining the team feels like a dream career move," said Mulvihill. "It has evolved into a multi-platform category leader that isn't afraid to challenge the status quo and is leading the way in "best in class" content and brand marketing programs."

Prior to joining Vanity Fair in early 2011, Mulvihill spent three years as the East Coast advertising director for Entertainment Weekly, and between 2004 and 2007 oversaw sales efforts for The Week, and later for Cookie magazine. Mulvihill began his sales career at The Chicago Tribun

e
.
The Atlantic Brings on Vanity Fair's Bill Mulvihill as Associate Publisher

Reviewed by
Editor
on
9/24/2014
Rating: