Pallet Magazine, a Magazine Created For People Who Like to "Think And Drink", Folds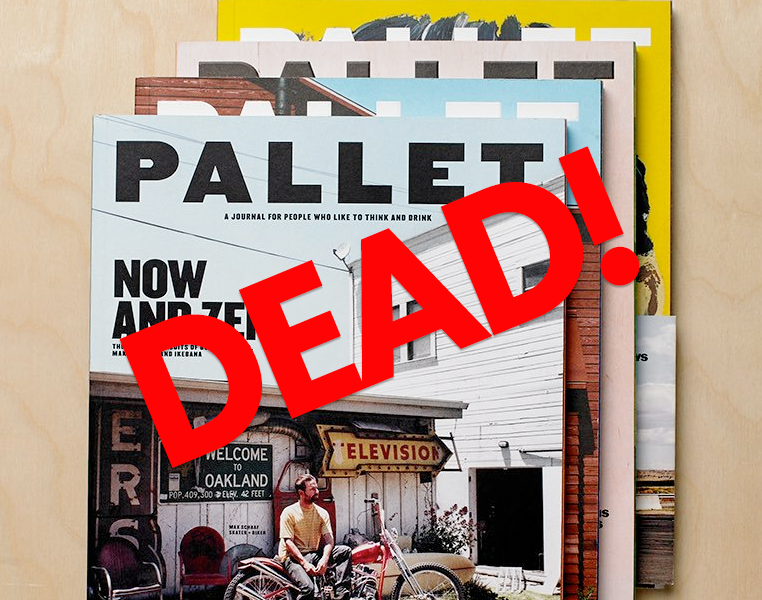 It was just a year ago that
we did a feature
on the editors/founder of Pallet Magazine, a new deluxe print magazine at the time for people who like to think and drink. The magazine went on to release a total of 4 print issues and amassed a nice social media following. But as of a few weeks ago, the magazine is no longer in production and the publication's social media and website has mostly frozen in time. The magazine was included on Mr. Magazine's
list of best launches of 2015-2016
. The last posting on Pallet's instagram page is the weird animation and caption below:
When
we interviewed
Nadia Saccardo and Rick Bannister both magazine industry vets, we asked them the obvious question of why they would launch a print magazine now, in the current declining climate. Rick Bannister said:
Because reading online and reading in print are two completely different experiences. Reading on your phone or laptop comes with a low-level of anxiety, because you know there's a bottomless pit of information ahead, so you end up skimming everything and scrolling on forever, never truly engaging with much. Nowadays, not many things have the power to make you stop and really appreciate what's in front of you, but a premium magazine is still one of those things. We love the idea of that.
That was a good response but looking back it was a bit tone deaf. Sometimes individuals in magazine media like to tell themselves this completely ignoring reality. The fact is more and more people are migrating to digital each year. Companies like Hearst can launch new print magazines, because they have the money to back it up. Pallet was backed by Sam Calagione of Dogfish Head Brewery who also served as executive editor. Producing a print magazine isn't cheap. Production alone takes a lot of cash and distribution is an entirely different animal by itself. There are no signs that Pallet will continue as a website. The message left on the site directs people to view all issues now available only in digital by going to Readbug. However the Pallet page on that site is also down. RIP Pallet, you had potential.
Pallet Magazine, a Magazine Created For People Who Like to "Think And Drink", Folds

Reviewed by
Editor
on
2:57 PM
Rating: