Your Media Morning: Financial Chaos Continues at Blouin Media, Snapchat Lays Down The Law, NY Times Hacked With "Russia Attack"
PEARSON WILL SELL OFF ITS 47 PERCENT STAKE IN PENGUIN RANDOM HOUSE
Ownership of one of the world's biggest publishers is poised to change hands after Pearson said
on Wednesday
that it planned to sell its 47 percent stake in Penguin Random House, home of John Grisham, "The Girl on the Train" and "Game of Thrones." The most natural buyer is its partner, Bertelsmann of Germany, which owns 53 percent of Penguin.
AFTER THREE DECADES ANOTHER CONDE NAST EXEC EXITS THE COMPANY
Longtime Condé Nast executive Pete Hunsinger is leaving the company after 36 years of service. The news was delivered late
Thursday
via a memo from chief business officer and president of revenue Jim Norton, who said Hunsinger is moving on to a marketing role at a consumer goods start-up.
HERE IS HOW VICE MEDIA WILL WIN OVER FASHION AND LUXURY ADVERTISERS
Scan the navigation bar at the top of i-D magazine's website and you'll find categories like "Fashion," "Beauty," "Music" and "Culture," alongside labels for sections sliced by content-type, including "News," "Videos" and "Think Pieces." There is one anomaly, however: "The Fifth Sense," a title just mysterious enough to warrant a click.
FACEBOOK LIVE IS DEAD?
Facebook is de-emphasizing live video when it talks to them. And none of the publishers we've spoken with expect Facebook to renew the paid livestreaming deals it signed last spring to get live video off the ground. Instead, Facebook is pushing publishers to create longer, premium video content as part of a larger effort led by Facebook exec Ricky Van Veen.
TIME WARNER'S FUTURE PARENT COMPANY AT&T ADDED MORE THAN 200K USERS TO ITS STREAMING SERVICE
The company launched the streaming video service at the end of November and previously only said that its fourth-quarter earnings report would shed some light on the early subscriber performance. AT&T said the figure it cited "includes only paying customers." AT&T's video subscription business includes U-verse, DirecTV's traditional satellite TV service and DirecTV Now, which offers several versions, including a free advertising supported service.
THERE IS A BRIETBART NEWS FOR THE LEFT COMING
True Blue Media, pitching itself as the left's answer to Breitbart, has picked an investigative reporter critical of Republicans and Wall Street Democrats alike as its new CEO. David Sirota is leaving his role as senior investigations editor at the
International Business Times
to lead True Blue, which currently operates as ShareBlue and was part of a network of liberal outlets supporting Hillary Clinton's failed presidential campaign.
SNAPCHAT FORCING PUBLISHERS TO CLEAN UP THEIR CONTENT AND RID IT OF MISLEADING IMAGES
On Snapchat last week, MTV published an article with the headline "Is this the thirstiest person on earth?" The article, which ran on Snapchat's news service, Discover, appeared with a picture of a bikini-clad blond woman taking a selfie, even though the piece was about a fully clothed man. Those kinds of risqué and misleading images will now be much less prominent on Discover because early
on Monday
, Snapchat updated its guidelines for publishers.
THE SEC IS PROBING YAHOO OVER CYBER BREACH
The SEC is investigating whether two massive data breaches at Yahoo should have been reported sooner to investors, the Wall Street Journal reported
on Sunday
, citing people familiar with the matter. Yahoo has faced pointed questions about exactly when it knew about a 2014 cyber attack it announced in September that exposed the email credentials of half a billion accounts.
NY TIMES' VIDEO TWTTER ACCOUNT WAS HACKED
The New York Times is investigating an apparent hack of one of its Twitter accounts that happened
Sunday
morning. The newspaper's video account, @nytvideo, tweeted around
9:40 a.m. ET
a hoax about a missile attack from Russia against the United States. The message attributed news about the "missile attack" to a "leaked statement" from Russian President Vladimir Putin.
ESPN WILL PROBABLY LOSE USERS FOR TWO YEARS
Analyst Daniel Salmon estimates ESPN will continue to suffer cable-subscriber losses during the next two years. While there's hope that online distribution could make up some of the difference, he doesn't believe it will be nearly enough in the short run. "There are still a lot of challenges for ESPN."
CAN SNAP INC CONVINCE INVESTORS ITS WORTH $20 BILLION?
Snap is hoping to convince public market investors it's worth upwards of $20 billion by stressing how important its app is to users' daily lives. That's what Snap's management highlighted this month to analysts from banks underwriting its initial public offering. according to people familiar with the matter. The company laid out a slew of engagement metrics that will be used to build financial models to determine the valuation it will seek, they said, asking not to be identified as the details aren't public.
-Good Morning
[post_ad]
Your Media Morning: Financial Chaos Continues at Blouin Media, Snapchat Lays Down The Law, NY Times Hacked With "Russia Attack"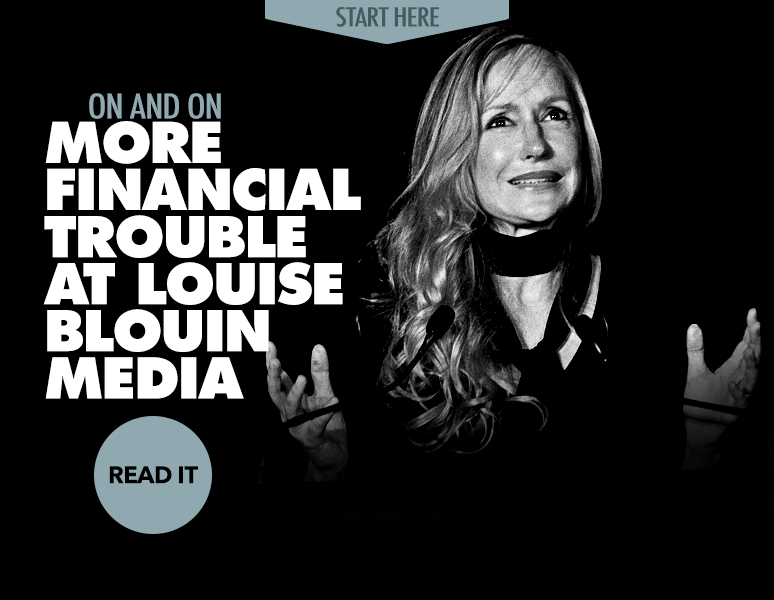 Reviewed by
Editor
on
10:26 AM
Rating: