Your Media Morning: British Vogue's Editor Out After 25 years, Forbes Family Settles, Vice Not Interested in US Weekly, Time Inc COO Talks Shop
FORBES FAMILY FINALLY SETTLES WITH THE NEW OWNERS OF FORBES MEDIA
The Forbes family, after a bitter legal battle with the new Chinese owners of Forbes Media, have apparently finally gotten paid. That leaves Steve Forbes as chairman, the Asian owners with 95 percent of the company — and the Forbes family with the money from its long overdue loan to Integrated Whale Media, the new owners.
MEAGER EARNINGS FOR PUBLISHERS PUSHING CONTENT ON THIRD PARTY PLATFORMS
Publishers are receiving far less money than might have been expected from placing their content on the third-party distribution platforms owned by companies including Facebook, Google, and Snapchat, according to a new report. The report, from premium publisher trade body Digital Content Next (DCN), claims that the (mean) average premium publisher generated $7.7 million in revenue from distributing their content on third-party platforms
FACEBOOK BOSS SAYS HE HAS NO PLANS TO RUN FOR PRESIDENT
Facebook founder and CEO Mark Zuckerberg has insisted he does not plan to run for US president - despite the rumours. For now, he said he would continue working on growing his company as well as the Chan Zuckerberg Initiative (CZI), the corporation he and wife Priscilla built which makes investments in scientific and leadership research. He did not rule out running for office in the future.
CONDE NAST'S BON APETIT LAUNCHES NEW "HEALTHY" FOOD VERTICAL 'HEALTHYISH'
Bon Appétit launched a new brand and site, Healthyish, which will cover wellness through the lens of food. Things to expect include recipes tested in the BA Test Kitchen, plus other ways to live a "healthyish" life, whether that's a happy hour recommendation or a new workout craze. The platform launches with 30 new videos, a collection of new recipes, essays, profiles, and true stories.
VICE MEDIA NOT INTERESTED IN WENNER MEDIA'S US WEEKLY
Wenner Media founder Jann Wenner is said to have sought out old pal Tom Freston, the vice chairman of Vice Media, to invest in or buy Us Weekly — and add it to Vice Media's holdings. But his pal and biker buddy appears to have turned him down. Wenner is rapidly turning over control of the company to his son, Gus Wenner, head of digital operations.
CBS RE-UPS WITH MEREDITH FOR CARRIAGE
CBS can relax about its ability to reach about 7% of its viewers: It just renewed its affiliation agreement with Meredith Corp, which carries CBS programming to more than 5.5 million households in Atlanta, Phoenix, Kansas City and Flint, MI.
MEREDITH CORP WILL SHARE ITS Q217 REPORT CARD TODAY
Analysts expect Meredith Corp. to post earnings of $1.20 per share and revenue of $435.22 million for the quarter. Meredith Corp. last posted its earnings results on
Thursday, October 27th
. The company reported $0.75 EPS for the quarter, beating the Thomson Reuters' consensus estimate of $0.72 by $0.03. The company earned $399.90 million during the quarter, compared to analyst estimates of $400.77 million.
TIME INC COO JEN WONG ON THEIR GOAL TO BE DIGITAL EXTROVERTS
Time Inc. is the poster child for a legacy publication in the throes of a tumultuous digital transition. And Jen Wong is at the center of it. Wong, a veteran of digital native publisher PopSugar, serves as president of digital and chief operating officer at the home of iconic magazine brands like Time, People and Sports Illustrated.
BLOOMBERG'S REMEDY TO DRIVE HOMEPAGE TRAFFIC
Publishers are struggling with the decline in home page traffic across the board. Bloomberg Media thinks it has found a remedy: When it relaunched its technology vertical in October, Bloomberg decided to ditch the infinite scroll at the end of articles and send people to the vertical's homepage instead.
THE GUARDIAN SHUTTERS ITS MEDIA+TECH NETWORK
All good things must come to an end. As we're sure many of you are aware, ​times are tough in the advertising market which the Guardian depends on to fund much of its journalism. Consequently, the decision has been taken to close the Media and Tech Network at the end of January. We hope to have been a valuable resource, and that you'll continue to enjoy the Media and Technology coverage across the Guardian.
NEW YORK TIMES LOSES TECH EDITOR TO GOOGLE GLOUD
New York Times deputy tech editor Quentin Hardy is heading to Google. Hardy tweeted that he had accepted an offer to head editorial for Google Cloud, which includes G Suite and Google Cloud Platform. Google confirmed the news and said Hardy's role was new, but declined to share further details, such as what exactly the job entails.
PRINT IS GOOD FOR MARTHA STEWART LIVING ACCORDING TO EDITOR ELIZABETH GRAVES
Maybe I'm eternally optimistic in the face of challenge, but I envision a bright one for us. Not all magazines necessitate a printed form, but Living does—our readers continue to enjoy and save issue after issue. The visual experience is important to them. We are also a magazine about celebrating life, and that never falls out of fashion in good times or bad. It takes a village to help maintain print's integrity and the power of the platform. But it is unparalleled when it comes to reader trust, and we need to keep that. I like many mediums, but print will always be my first and lifelong love.
SALON MAY BE SOLD TO INVESTOR LOOKING TO BUY THE STREET.COM
Salon Media, one of the trailblazing pioneers of digital publishing that has struggled in recent years, is on the brink of selling a controlling stake to activist investor Spear Point Capital. Spear Point would then use its control of Salon to make a run at Jim Cramer's TheStreet.com.
-Good Morning
[post_ad]
Your Media Morning: British Vogue's Editor Out After 25 years, Forbes Family Settles, Vice Not Interested in US Weekly, Time Inc COO Talks Shop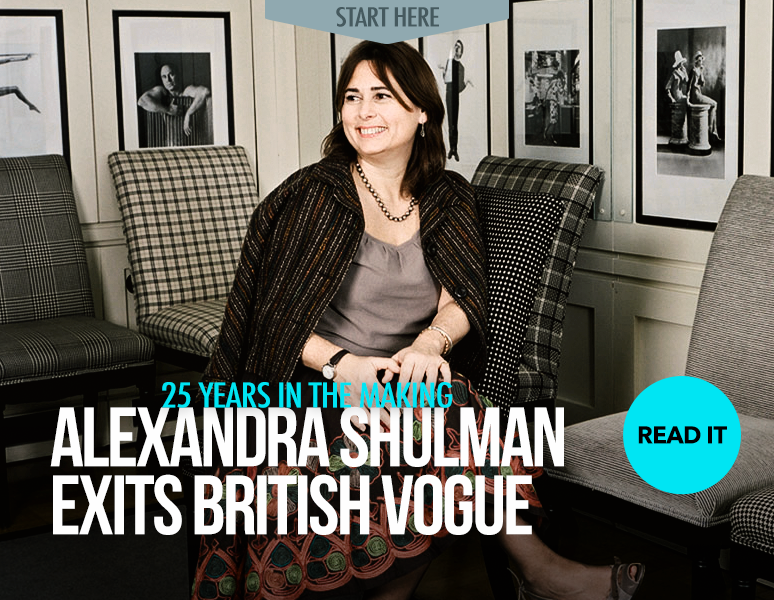 Reviewed by
Editor
on
10:01 AM
Rating: