Apps Are The New Magazines At Bloomberg Media, Company Launches New Mobile App For News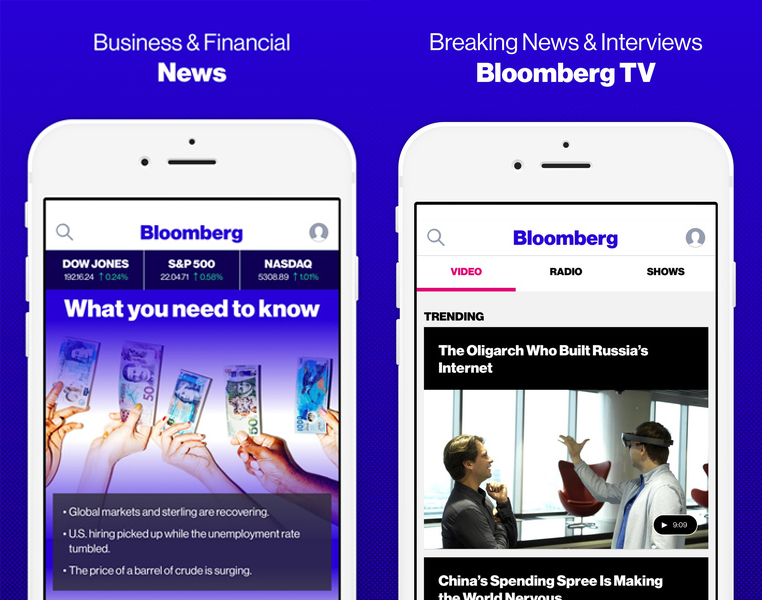 At Bloomberg Media, apps are the new magazines and newspapers according to Bloomberg Media's global head of digital Scott Havens. The company according to a Digiday report is betting its mobile future on apps in a major way.
Apps are the new magazines and newspapers," said Scott Havens, global head of digital for Bloomberg Media. "I know if I have brand affinity [for a publisher], it's because I get what I need and I find it a useful part of my daily media diet — that's the underlying philosophy for the app.
With that, the company announced the launch of "a new consumer mobile app experience" a mobile app for news. The company said apps are a major part of the company's future digital growth.
Here is the full announcement below:
Bloomberg Launches New Mobile App for News
Today marks the launch of our new consumer mobile app experience and more importantly, an increasingly critical component of our future digital growth.
We believe that native apps across mobile and connected devices are essential to a successful future in publishing, which is why we're investing in a new slate of apps to serve our audience of global business professionals. There are a number of reasons why we are taking this strategic approach - not the least of which, is that according to a recent study, mobile users are now spending 90% of their time in apps. We've also seen with our users that in-app digital engagement outpaces the mobile web by a 7:1 ratio. Finally, we are both buoyed - and challenged - by the fact that since 2014, the number of apps reaching 5 million + users has grown by 40%. This is the future of digital engagement.
Apps provide users with a deeper, data-driven, personal, and seamless cross-platform experience, which in turn allows publishers to have a far greater relationship with its users. And so we set out to create a mobile experience for our on-the-go global executives that is essential, delightful, fast, smart, and simple to use - attributes of many of today's most successful apps.
Our new app includes a streamlined, fast, clean, modern design powered by our industry-leading market-moving news, analysis and data - across text, video, audio - and personalized to meet the needs of each individual. New features include:
Personalized, regionalized, and dayparted content:
Personalized, regionalized, and dayparted content:

We have a dedicated editorial team curating news to reflect the time of day (mornings/afternoons) no matter where are users are in the world
We have built a powerful algorithm that will provide regionalized content for executives in all regions of the world



Enhanced video experience that brings the second screen to life:

Building on our leadership in digital video, we've created a new video experience where users can pop into live TV or add shows/content to playlists for on demand viewing.

A continuous, cross-platform experience:

Users will be able to experience content that originates on all of our platforms: digital, TV, video, radio, print and live events. Content adapts and gets smarter on each visit.
Ultimately, our goal is for our new flagship app to be an essential part of our users' daily routine and the centerpiece of their digital relationship with Bloomberg Media. We have, and will continue, to focus our teams on creating unique, rich, and cross-platformed connected experiences that drive more direct and meaningful relationships with our users both on our digital platforms and across others.
Apps Are The New Magazines At Bloomberg Media, Company Launches New Mobile App For News

Reviewed by
Editor
on
10:46 AM
Rating: