Your Media Morning: Another Shake Up At Time Inc Could Lead to Jane Pratt's Exit? Say Hello to Gawken, Time Inc is First to Join Apple Pay...
SUBSCRIBE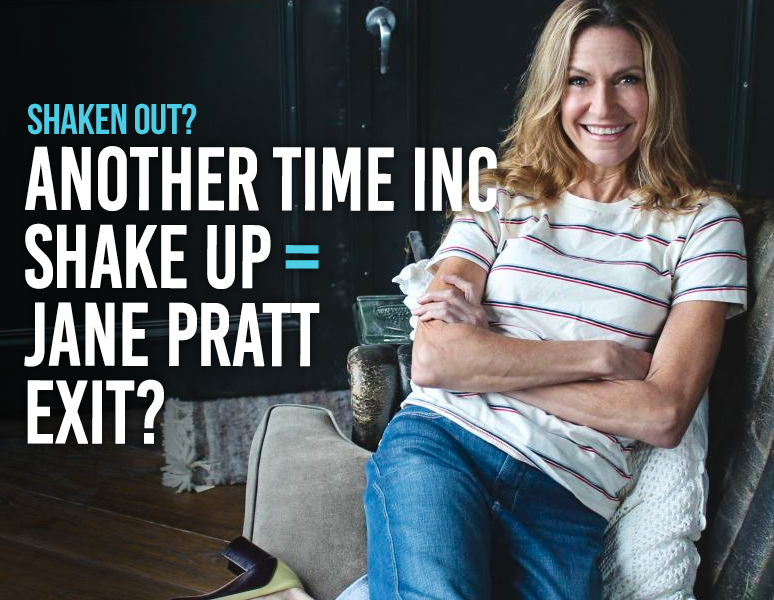 By CANDY LIU | 9/15/16
The new group includes video-centric properties
ratedred.com
,
seriously.tv
and Complex, the Millennial-media title, which Verizon and Hearst purchased through a 50-50 joint-venture in April. Rich Antoniello, formerly chief executive officer of Complex, will become ceo of Complex Networks. Neeraj Khemlani, president of Hearst Entertainment & Syndication, and Brian Angiolet, senior vice president of Verizon's consumer product portfolio, will take on the additional roles of cochairmen of Complex Networks.
Fox News announced
on Wednesday
that the news network's co-presidents, Bill Shine and Jack Abernethy, had signed multiyear contracts. It did not disclose the length of the contracts but, in a statement, the Fox News executive chairman Rupert Murdoch said the deals would ensure "stability and leadership to help guide the network for years to come."
Stunned employees learned during meetings
on Wednesday
that 327 editorial positions will be chopped down to 190 and all workers will have to reapply for posted jobs.The cuts to other departments will be even deeper, resulting in the elimination of about half the NJ group's 426 employees.
If you think CNN is having a good 2016, just wait until next year. Time Warner CFO Howard M. Averill guaranteed record profits for the cable news channel in 2017, even after all this election craziness has come to a close. How could that be possible? Well, next year, the network will see what he called a "significant" increase in affiliate fees — plus, digital should continue growing even as linear wilts.
Speaking
Wednesday
at the Bank of America Merrill Lynch Media, Communications and Entertainment Conference, NBC Universal CEO Steve Burke characterized the Olympics as a "tremendous success," adding that the company "made over $250 million in Rio," thanks to a 20% increase in ad sales volume compared to what it took in during the London Games.
The new More.com came out of beta testing a few weeks ago, according to a company spokesperson. Lilliana Vazquez, during Meredith's first BrandFront presentation for advertisers
Wednesday
, announced that her new show, "Office Hours," would be airing next year on the "completely revamped More.com." A press release referenced "the reinvented More.com."
Called Gawken, the site promises to "open your mind to the future." It features a number of quick posts written by pseudonyms including Tim Cook's Toaster, Elon Musk's Tesla ("VVRROOOOM VROOOMMMM," it writes, not unconvincingly) and, of course, someone named Peter Theil, an author not quite named after the venture capitalist who bankrolled Hulk Hogan's legal battle against Gawker.
While Gannett waits on the chance to buy Tronc, the Chicago newspaper company is making acquisition plans of its own. At an investor conference last week, Tronc CEO Justin Dearborn said his company is eyeing potential acquisitions. Aside from newspaper targets, Tronc may be interested in buying "ad tech" companies, Dearborn said, according to analyst Daniel Kurnos, who hosted the Sept. 8 Benchmark conference at the New York Athletic Club.
Disney cut 5 percent of its consumer products and digital media staff
on Wednesday
, or about 250 jobs, a spokesman said, the latest in a series of belt-tightening moves by the world's largest entertainment conglomerate. While small in a broad sense Disney has more than 180,000 employees worldwide — pocket-size layoffs have been frequent at the company in recent months.
Time Inc. will be integrating Apple Pay to provide an easier purchasing experience for readers to subscribe to Entertainment Weekly, Sports Illustrated, People and Real Simple and other Time Inc. brands soon to follow. Time Inc. also plans to sell additional products and services via this new, convenient, one touch payment method in the future. Security and privacy are at the core of Apple Pay.
Apple's stock hit a 2016 high
on Wednesday
, with its market value peaking above $600 billion for the first time since April as Wall Street bet the technology company's newest iPhone would help shore up falling sales. Shares were fueled by U.S. wireless carriers' reports of strong early orders for the iPhone 7 as well as arch-rival Samsung's recall of potentially exploding Galaxy Note 7 smartphones.
The American public's trust in the media in 2016 has fallen to its lowest point since at least 1972, according to a new Gallup poll. Thirty-two percent of the respondents said that they have "a great deal" or "a fair amount" of trust in the mass media, an eight percentage-point drop compared to 2015. It's the lowest point in Gallup's polling history.
-Good Morning
[post_ad]
Your Media Morning: Another Shake Up At Time Inc Could Lead to Jane Pratt's Exit? Say Hello to Gawken, Time Inc is First to Join Apple Pay...

Reviewed by
Editor
on
7:09 AM
Rating: