Your Media Morning: The Hottest Magazines, Trouble at Buzzfeed? Time Inc's Stock Surge, Big Promotion at Hearst, Hugh Hefner Shares Photo on Twitter
BUZZFEED'S CHIEF MARKETING AND CREATIVE OFFICER IS LEAVING THE COMPANY AFTER JUST A YEAR
BuzzFeed's chief marketing and chief creative officer, Frank Cooper, is leaving after a tenure of about 18 months, the digital media company said
Monday
.Mr. Cooper has overseen BuzzFeed's creative services team and worked with marketing executives and advertising agencies to create sponsored content that runs across BuzzFeed's properties. He was previously a marketing executive at PepsiCo Inc. and AOL.
THE COMPANY ALSO LOST ITS SENIOR POLITICAL WRITER TO THE ATLANTIC
BuzzFeed senior politics writer McKay Coppins is jumping to The Atlantic, the magazine announced
Monday
. Coppins, who covered the 2016 election for BuzzFeed, will serve as a staff writer for The Atlantic's politics and policy team. He will begin writing for the magazine and for its online politics coverage at the beginning of 2017.
CNN BOUGHT VIDEO SHARING APP BEME, WILL SHUT IT DOWN
CNN announced
on Monday
that it had agreed to acquire the technology and talent behind Beme, the social media app built and started by Mr. Neistat and Matt Hackett, a former vice president of engineering at Tumblr. Beme's 12 employees will join CNN as part of the deal, the terms of which were not publicly disclosed. Beme was intended to be a social sharing application that Mr. Neistat described as "more authentic," a way of putting four-second bursts of video out into the social sphere without giving users the ability to edit or tweak the content.
NEWS ABOUT TIME INC BEING IN PLAY WAS GOOD NEWS FOR ITS SLEEPY STOCK PRICE
Yesterday's news about Time Inc being in play, sent the company's sleepy stock soaring 20%. The company's rejection of its first takeover offer is seen as the start of what could be a long game of "try harder'
50 YEARS LATER AND 'RUNNER'S WORLD' MAGAZINE IS STILL RUNNING
It's never been lost on me that Runner's World has been around for five decades and has been such an important part of our readers' lives. It's done certain things very well and it's really reflected the times that we've lived in. And running has changed so much. It's been really interesting with this anniversary to look back and see how the magazine over the years has reflected the eras in which it was living.
GOOD HOUSEKEEPING'S EDITOR IN CHIEF JANE FRANCISCO GETS BIG PROMOTION
Hearst is nodding to a tried and true model in order to amp up its women's content. The magazine publisher has elevated Good Housekeeping editor in chief Jane Francisco to head its newly formed "Lifestyle Group," which is comprised of Good Housekeeping, Redbook and Woman's Day. The promotion formalizes what is already in place on the business side with Good Housekeeping's Patricia Haegele as publishing director of the group.
FORTUNE.COM'S EDITOR AARON TASK IS THE LATEST TO BE OUT AT THE BUSINESS PUBLICATION
Task had been with the magazine since September 2015. In July, he started a weekly podcast next week called "Fortune Unfiltered." Others who have left Fortune in recent weeks include legal affairs editor Roger Parloff and Peter Elkind, co-author of "Smartest Guys in the Room." Task joined Fortune after time at Yahoo Finance, where he was editor in chief.
PUBLISHERS ARE NOTORIOUS FOR RUINING A GOOD THING. THE LATEST CRAZE? NOTIFICATIONS.
Publishers have quickly realized the power of mobile notifications in drawing people back to content, so naturally they're at risk of overdoing it. "This is a classic commons problem," said Andrew McLaughlin, the co-founder of Betaworks. "It's a space where if everybody behaves badly, everything gets trashed." Over the past five or six years, notifications have grown from a curiosity into a major source of traffic and engagement.
INSTAGRAM LIKES TO USE COLLEGE FOOTBALL TEAMS TO MARKET ITS 'STORIES' FEATURE
Chalk up a success for Instagram's internal new "correspondents program," which involves getting big-time college football programs to use Instagram Stories on game days through the rest of the year. In addition to Michigan, other schools participating in the program include Ohio State, Florida State, Clemson, Colorado, Washington and California. The correspondents program will culminate at the national title game, during which one of the correspondents will be chosen by Instagram to take over the main Instagram account and create a story for its 200 million followers.
SOCCER BIGS BUDDY UP TO LAUNCH NEW DIGITAL PLATFORM 'DUGOUT'
FC Barcelona, Real Madrid and Bayern Munich are among some of the world's biggest football clubs that have united to help create a new digital platform, which will see them act as content creators while also splitting the advertising revenue. Dugout has partnered with 27 clubs as well as players and influencers to offer football fans exclusive behind-the-scenes original content on one platform.
LISTEN: THIS IS WHEN A MAGAZINE COMPANY IS NO LONGER A MAGAZINE COMPANY ACCORDING TO DIANE YOUNG
FORBES WANTS ITS NEWSROOM TO START THINKING LIKE SNAPCHAT
Forbes wants members of its newsroom to start thinking like Snapchat. The venerable business publication has been experimenting with digital "cards," which are highly visual, mobile-centric content templates designed for people to flip through using their thumbs on their phones — much the way people tap and swipe through Snapchat Stories.
PLAYBOY FOUNDER HUGH HEFNER MAKES RARE PUBLIC APPEARANCE VIA NEW TWITTER PHOTO
Hugh Hefner made a surprise return to Twitter over the weekend, where he shared a photo of himself for the first time in months. The 90-year-old media mogul had not posted on the social media site for two months, but on Thanksgiving retweeted a photo that had been posted by his son Cooper which featured father and son enjoying a holiday meal.
BUSINESS INSIDER LAUNCHES ITALY EDITION
Business Insider launched an Italian edition
Monday
. Readers in Italy will be redirected automatically to the new site. BI Italia publishes in Italian and is headquartered in Milan. It is published by leading Italian publisher Gruppo Editoriale L'Espresso and will work closely with parent company's flagship property, La Repubblica.

-Good Morning
[post_ad]
GET THE MEDIA MORNING
NEWSLETTER
Your Media Morning: The Hottest Magazines, Trouble at Buzzfeed? Time Inc's Stock Surge, Big Promotion at Hearst, Hugh Hefner Shares Photo on Twitter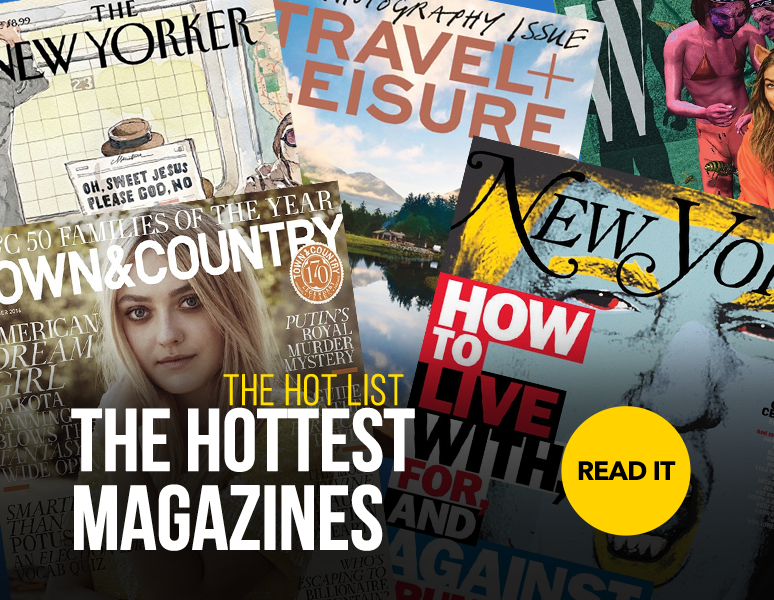 Reviewed by
Editor
on
Tuesday, November 29, 2016
Rating: