Your Media Morning: The Wirecutter Goes to The New York Times, Hundreds of Jobs Will be Cut at Twitter And Gannett, Spin is Back in Print…
SPIN MAGAZINE IS BACK IN PRINT FOR ONE ISSUE ONLY
Spin's print magazine is back from the dead — for one issue only. The digital music mag, which ceased print publication in 2012, this week is releasing a singular print edition sponsored by Amazon to promote original drama series "Good Girls Revolt," set in the late '60s.
NEWSPAPER GIANT GANNETT IS ELIMINATING 400 JOBS
The publisher of USA Today and 107 other papers said
on Monday
that it plans to trim its workforce by about 400 people — or 2 percent of its 18,700-person payroll. The cuts are said to be across the board, including at its McLean, Va., headquarters, and are expected to include some newsroom jobs.
THE AT&T TIME WARNER DEAL FACES TOUGH ROAD TO APPROVAL
AT&T Inc.
's $85.4 billion deal to buy Time Warner Inc.
sails toward two cresting waves of opposition: resurgent antitrust enforcement in Washington and politicians fired by a new bipartisan populist rage. It is too early to know how regulators will treat the AT&T-Time Warner deal. But after several quiet years, President Barack Obama's antitrust team has switched into high gear in response to a recent spurt of deal-making.
MTV'S PRESIDENT EXITS AFTER JUST ONE YEAR, VH1'S CHRIS McCARTHY TAKES OVER
MTV President Sean Atkins is stepping down from the company just over a year in the role. Despite his efforts to re-focus MTV on its music roots and the high-profile reboot of MTV News, Mr. Atkins has been unable to revive sagging ratings on the linear channel. Viacom is hoping
VH1 boss Chris McCarthy can work his magic
at MTV. Mr. McCarthy, who has been heading VH1 and Logo, will now also gain oversight of MTV.
On Monday
, Sean Atkins announced he would depart as president of MTV just a year after he joined the company.
BLOOMBERG MEDIA MOVING ALL ITS WEBSITES TO 'HTTPS'
With cyber security concerns on everyone's mind, it's increasingly important for businesses to understand what switching from HTTP to HTTPS means for their websites. The transition is a complex undertaking that can take months to successfully complete - but sites risk losing users' trust and search engine ranking if they don't.
INSTYLE'S NEW EDITOR LAURA BROWN PLANS TO BRING MORE FACES AND PERSONALITIES TO THE MAGAZINE'S PAGES
While InStyle has long had the feeling of a "magalog" in the vein of the now-shuttered Lucky, the magazine has beefed up its features in the past few years, in part, thanks to the 2013 arrival of fashion news director Eric Wilson, whose reportage and criticism in the Styles section of The New York Times earned him an ardent following.
HUNDREDS OF JOBS EXPECTED TO BE ELIMINATED THIS WEEK AT TWITTER
Twitter Inc. is planning widespread job cuts, to be announced as soon as this week, according to people familiar with the matter. The company may cut about 8 percent of the workforce, or about 300 people, the same percentage it did last year when co-founder Jack Dorsey took over as chief executive officer, the people said. Planning for the cuts is still fluid and the number could change, they added. The people asked not to be identified talking about private company plans.
BUSINESSINSIDER.COM LAUNCHES MARKETS DATA VERTICAL
Business Insider's partnership with German media conglomerate Axel Springer SE is growing closer. The nearly decade-old business news site is leveraging its relationship with its new corporate parent to launch MarketsInsider.com, a globally-focused markets data and news operation. The new site, which launches
Monday
, will be powered by data coming from Finanzen.net, Axel Springer's German finance portal that crunches numbers coming from 100 exchanges around the world.
THE STATE OF THE MEDIA INDUSTRY
The State of the Media Industry 2017 takes a look at 12 key publishing sectors: Data, Digital display advertising, eCommmerce, Email, Events, Memberships & paywalls, Mobile, Off-platform publishing, Print, Social media, Sponsored content and Video. These areas are the ones where the battle for market share is likely to be fought. As well as giving an overview of the main challenges in each sector, the sections also explore areas for planned investment, revenue hopes, opportunities and identifiable barriers to growth.
FORMER NEWS CORP BOSS PETER CHERNIN CREDITED WITH SPARKING AT&T TIME WARNER DEAL
Credit longtime Hollywood exec Peter Chernin with igniting the spark that led to AT&T's $85.4 billion takeover of Time Warner. Chernin and AT&T CEO Randall Stephenson met over dinner on Martha's Vineyard in early August. "Chernin was the one who first got me to appreciate the library that this company owns," Stephenson said.
RUPERT MURDOCH DOESN'T HAVE TIME WARNER TODAY BECAUSE HE BLINKED
For Rupert Murdoch the news of AT&T's $85 billion deal to buy Time Warner is a sharp reminder of what pursuing his family succession plan has cost him. Two years ago Murdoch was on the brink of a Time Warner takeover after his 21st Century Fox bid $80 billion. But when Time Warner told him to lift his offer, the Great Acquirer blinked.
VICE TAKING UP MORE OFFICE SPACE IN BROOKLYN
Only two years after moving its headquarters to Williamsburg, Vice Media has announced it will be expanding to a 74,000 square foot space in 55 Washington Street in Dumbo. The media company signed a lease for 30,000 square feet and Carrot Creative, Vice's creative advertising agency, will take a 43,700-square-foot space.
GOOGLE ACQUIRES EYEFLUENCE TO BEEF UP VIRTUAL REALITY EFFORTS
Google just picked up a key piece of technology that might move its virtual reality ambitions closer to the masses. Eyefluence, which is working to enable eye movements to control digital screens, wrote in a blog post that it's joining the search giant Alphabet.
THE ECONOMIST BUYS DATA DESIGN STUDIO, SIGNAL NOISE
The Economist Group has acquired London-based data design studio Signal Noise for an undisclosed sum as it expands its fast-growing content solutions business. Signal Noise creates data visualisations, tools and dashboards for clients which include Accenture, EE and Unilever.
-Good Morning
[post_ad]
GET THE MEDIA MORNING
NEWSLETTER
Your Media Morning: The Wirecutter Goes to The New York Times, Hundreds of Jobs Will be Cut at Twitter And Gannett, Spin is Back in Print…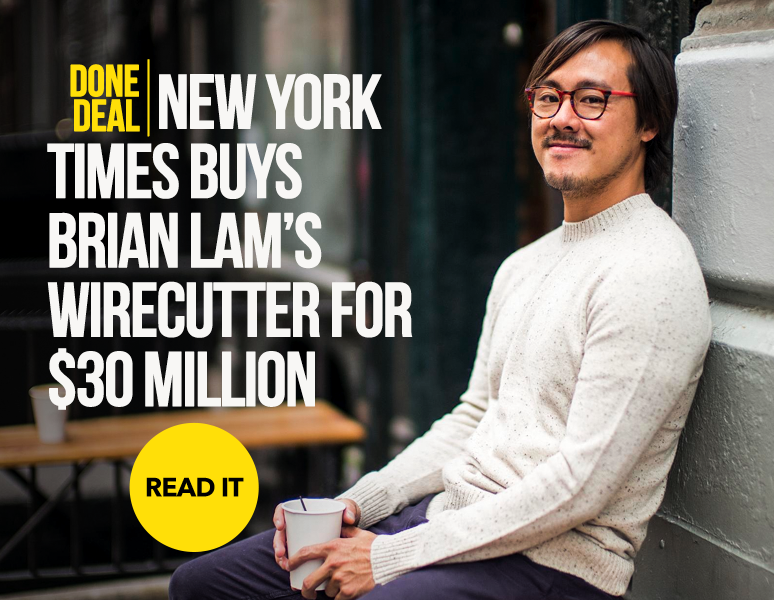 Reviewed by
Editor
on
7:00 AM
Rating: