Your Media Morning: RollingStone Sells 49 Percent of itself, Snapchat Rebrands as Snap, Buying Viacom May be Good for CBS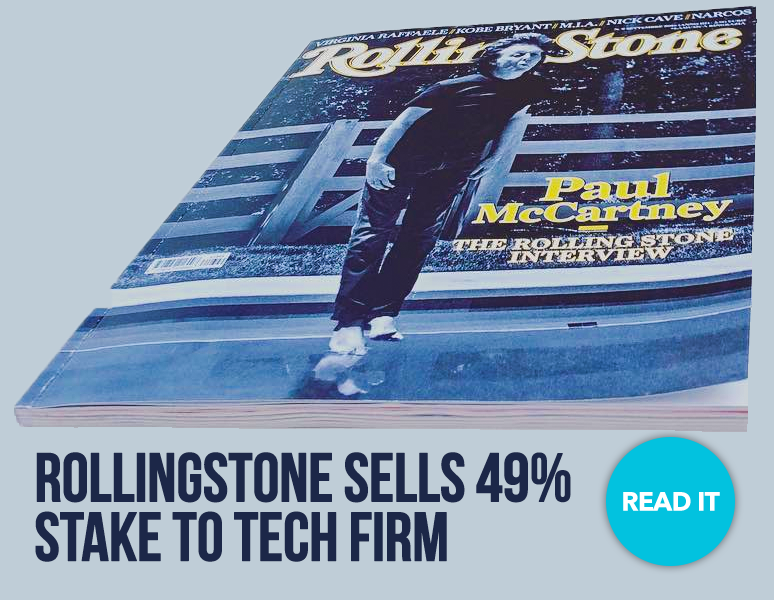 VERIZON'S CONTENT AMBITIONS WON'T BE A WALK IN THE PARK
In gobbling up Yahoo, and AOL before it, Verizon is building on a history of telecom companies getting into the content business. But the history of such deals is complicated, as they say. There are few direct parallels to Verizon's recent binge on media. But since consolidation concentrated power in a handful of telecom giants, they have been trying to become content providers as they seek new avenues for growth.
POLITICO FOUNDER AND FORMER CEO JIM VANDEHEI BUDDIES UP WITH NOWTHIS TO LAUNCH POLITICAL SNAPCHAT CHANNEL
On Sunday
, he and NowThis, a company that makes short videos for social platforms, introduced We The People, a Snapchat Discover channel focused on the final stages of the presidential campaign. It is running
Sunday
through
Thursday
until the presidential inauguration on
Jan. 20
. Mr. VandeHei will provide editorial guidance for the channel, while NowThis, which already has its own Snapchat channel, will create the content.
TONIGHT'S

PRESIDENTIAL DEBATE EXPECTED TO ATTRACT MASSIVE VIEWING AUDIENCE
The first presidential debate of 2012 averaged 67 million viewers. Experts believe the first debate this year will beat that number. Exactly how high? A debate topping the 100 million viewer mark is unlikely — but not inconceivable. Television networks stand to make millions of dollars from the ads that run before and after the debate.
AS IT TURNS OUT, CBS BUYING VIACOM COULD BE GOOD FOR CBS
Shares of CBS Corp could jump 30 percent in the next year, double in the next three or do even better if the network successfully attempts to buy Viacom Inc at an attractive price. Viacom, which last week said it its interim Chief Executive Tom Dooley will depart in mid-November and that the company will keep movie studio Paramount Pictures, appears to be tidying itself up for a sale
AN EDITOR AT VOX MEDIA'S THE VERGE SECRETLY WORKED FOR APPLE
Chris Ziegler, the former deputy editor of The Verge, is putting a whole new spin on moonlighting. In July, the tech reporter apparently took a job with Apple — but didn't bother to tell his old boss or colleagues at the Vox Media-owned site. For weeks he apparently worked both jobs.
UNIVISION IPO DELAYED
Univision is still waiting on a waiver from the Federal Communications Commission to allow a key shareholder, Mexican media giant Televisa, to increase its stake in the US-based Spanish-language broadcaster from 10 percent to 40 percent.
RUPERT MURDOCH AND HIS SONS TOOK HOME MAJOR BACON
The numbers showed that executive chairman Rupert Murdoch made $34.6 million, compared to the $27.9 million that he brought in during fiscal 2015, when he also was CEO of the company. That's a 24 percent increase.
VOX MEDIA INSTALLS GENERAL MANAGER FOR VOX.COM
Vox Media
on Monday
said that it had created a new position, general manager of Vox.com, and filling it with Andrew Golis, the founder of the now-shuttered startup This and The Atlantic's former entrepreneur-in-residence. As Vox.com's GM, Golis will work with the site's product and business teams, along with other Vox Media properties, to figure out the best ways to grow the site.
DENNIS PUBLISHING CEO JAMES TYE REFRESHINGLY HONEST
Too often at publishing summits, CEOs give vague overviews of their companies and some blandly inspirational messages about how to emulate that company's success. The phrase "Don't be afraid to..." is never more than five seconds away and may in fact be on every single slide during the presentation.
VIACOM IS CONSIDERING THE USUAL SUSPECTS TO BE ITS NEXT CEO
Viacom is said to be considering three internal candidates — Wade Davis, Robert Bakish and Scott Mills — as part of its search to replace interim CEO Tom Dooley following a management shakeup at the struggling media giant. The company is also said to be weighing the sale of all or part of its 50 percent stake in the Epix premium movie channel.
SNAPCHAT LOSES THE "CHAT" IN REBRANDING, SAYS ITS A CAMERA COMPANY
In an unmarked building on a quiet side street just off the beach in Venice, California, 26-year-old Snapchat CEO Evan Spiegel stands in a small conference room. He's draped a towel over a mysterious object sitting on a table. He is eager to the point of jitters.
-Good Morning
[post_ad]
GET THE MEDIA MORNING
NEWSLETTER
Your Media Morning: RollingStone Sells 49 Percent of itself, Snapchat Rebrands as Snap, Buying Viacom May be Good for CBS

Reviewed by
Editor
on
9:41 AM
Rating: