Axel Springer's Business Insider Ups Tech Insider's Executive Editor to U.S Editor in Chief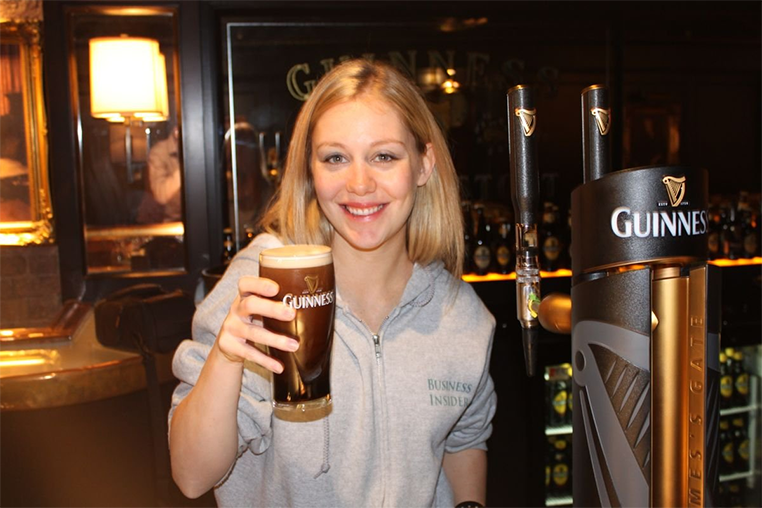 ALYSON SHONTELL
Alyson Shontell, the executive editor of Tech Insider, has been upped to U.S. Editor in Chief at Business Insider following some operational changes at the company. CEO Henry Blodget fired off a memo to the troops announcing the changes:
We are making a change to the structure of our editorial team to strengthen our overall tech, science, innovation and business coverage. We're also excited to announce the appointment of an Editor in Chief for Business Insider US.

As you know, two years ago, we decided to expand Business Insider beyond business coverage by spinning out two new properties, Tech Insider and Insider. We designed these properties for the next wave of digital journalism and storytelling — mobile, social, video — and we launched them last summer. Since then, they have each seen extraordinary growth.

Tech Insider is already the largest producer of tech video in the world, with more than 500 million views per month. Tech Insider is also already the most socially-engaged tech site, with more than 6 million followers and 15 million monthly uniques. Insider, meanwhile, already reaches more than 100 million people each month and generates more than 1.5 billion monthly video views.

We launched Tech Insider and Insider by spinning out separate editorial teams. Insider will remain separate. But we have decided to recombine the Tech Insider and Business Insider teams.

Over the past two years, the line between "tech" and "business" journalism has increasingly blurred. Tech companies and products and tech-powered innovation have become a central focus of most business publications, and the business of tech is now as compelling to tech enthusiasts as tech products and services are. The continuum between business and tech has become so smooth, in fact, that we ourselves have often had trouble figuring out who should cover what.

So we believe we can serve our audience better by creating a single turbocharged editorial team. This also marks a return to Business Insider's roots, as tech has always been a core pillar of our journalism. Tech Insider itself will also live on.

The combination of the BI and TI teams will produce some overlap, especially on our tech and science desks. As a result, some roles and assignments will change. But we will offer everyone a position on the combined team.

In addition, we are announcing two new positions today.

Over the past 7 years, Tech Insider's Editor in Chief, Gus Lubin, has been instrumental to our editorial success. Gus began his career as a writer. As soon as we spotted his editorial talent, however, we pressed him into service as an editor. For many years, Gus has taken on ever-increasing responsibilities, culminating in helping to create and lead Tech Insider. Through all this, Gus has often wanted to return to his roots as a writer. And now he plans to. After a well-deserved break, Gus plans to join us as a Senior Correspondent.

Tech Insider Executive Editor Alyson Shontell has had a similarly impressive career. Today, we are excited to announce that we're promoting Alyson to Editor in Chief of Business Insider US. Alyson joined Business Insider 8 years ago, starting her journalism career as a tech reporter. She then worked her way up to Correspondent, Senior Correspondent, Editor, Deputy Editor, and Executive Editor. Alyson's high-impact, long-form investigative work has included inside stories about the collapse of the former unicorn Fab, the truth about the mysterious payments startup Clinkle, and the tragic suicide of startup founder Jody Sherman. Alyson has also hosted our annual IGNITION conference, and has appeared on ABC, MSNBC, CNBC, CNN, CBC, and other networks. Prior to joining Tech Insider this spring, Alyson oversaw Business Insider's technology, science, lifestyle, and entertainment sections.

Business Insider now has 10 international editions, including Business Insider UK, Business Insider Australia, and Business Insider Deutschland. Each edition has its own editorial team and EIC. Alyson will lead our US editorial team, our largest. I will remain Business Insider's global Editor in Chief.

Matt Rosoff, Business Insider Executive Editor and Global Tech Editor, will now lead BI's much larger global tech, science, and innovation team. With two decades of experience as a journalist and analyst, including serving as a founding editor of CNET, Matt is one of the most experienced and smartest tech journalists in the industry. Over the past several years, Matt has built and led our West Coast team. He will continue to serve as our West Coast bureau chief.

With our combined newsroom, Business Insider will now have one of the strongest teams of tech, science and innovation journalists in the world.

Please join us in congratulating the Tech Insider team on their amazing success over the past year. We are thrilled to welcome everyone back to the BI editorial team and can't wait to see what we can accomplish together.

And also please join us all in congratulating Alyson Shontell!

Thanks to all of you for your ongoing efforts on behalf of our audience and clients. Keep up the great work.
[post_ad]
Axel Springer's Business Insider Ups Tech Insider's Executive Editor to U.S Editor in Chief

Reviewed by
Editor
on
August 03, 2016
Rating: