Was Former Disney Heir Apparent Tom Staggs Promoted Because He Saved Bob Iger's Life?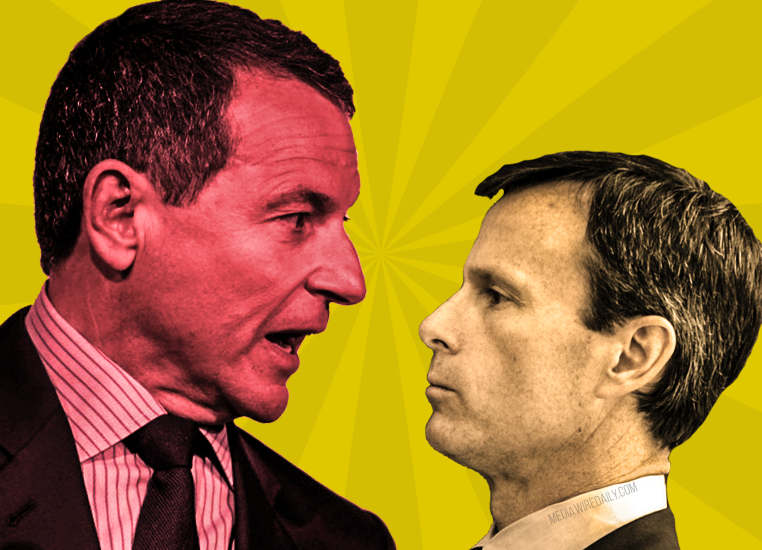 The downfall of Tom Staggs who just a year ago was crowned the heir apparent to Disney CEO Bob Iger came as a shock to many in the entertainment/media industry. The impression was that this thing was locked and Mr. Staggs would be the new king. Since his resignation, more information has surfaced about all the going ons behind the scene leading up to and after this promotion. In this behind the scenes piece by
the New York Times' James Stewart
, we now know that Mr. Stagg's promotion was forced through by Mr. Iger because some board members weren't in favor of putting him in the succession line. We also know that back in 2003, Mr. Staggs saved Mr. Iger's life when he started choking on a piece of chicken during lunch. Mr. Staggs sprung into action applying the heimlich maneuver until the chicken popped out but in working hard to save the boss he broke one of Mr. Iger's ribs. Clearly this moment formed a bond between the two men. Though this happened about 3 years before Mr. Iger became CEO and 12 years before Mr. Staggs was upped to number two under Mr. Iger, one can't help but wonder if Mr. Staggs' promotion last year was a long promised IOU for saving Mr. Iger's life?
In the New York Times article it says Mr. Iger didn't even attempt to convince Mr. Staggs to stay indicating that he agreed it was the best move. Did Mr. Iger make good on an IOU knowing that Mr. Staggs wouldn't last? Or maybe it's none of the above. See Mr. Iger's plans after he left Disney was to lead the National Football League's return to Los Angeles but those plans were shattered when NFL owners went in another direction burying Mr. Iger's plans for when he left Disney. So with his life after Disney plans gone, Did Mr. Iger begin to orchestrate the ouster of the man who would take his Job so he can stay on past 2018? The Disney board loves Mr. Iger so much that if he wanted to stay in his role indefinitely, all he had to do was tell the board and he would be welcomed to stay as long as he wanted based on the outstanding job he's done. Now that Mr. Staggs is out of the way, the board right now has no choice but to look to Mr. Iger to keep the ship moving until someone else is groomed or until Mr. Iger is ready to go, assuming he isn't.
[post_ad]
Was Former Disney Heir Apparent Tom Staggs Promoted Because He Saved Bob Iger's Life?

Reviewed by
Editor
on
April 10, 2016
Rating: