Your Media Morning: Is Time Inc Stifling itself? GQ Launches New Travel And Eats Vertical, Snapchat Search...
NEW ORDER


DOES FACEBOOK CONTROL THE NEWS MEDIA?


Amid all of the upheaval and disruption the media business has gone through over the past decade, there is one major shift with long-term effects that are likely to outweigh almost all the others.
Good Media Morning to you. Here's what's going on elsewhere. But first

,

FORWARD THIS ISSUE»




MANY ARE PUZZLED AS TO WHY BILL O'REILLY HASN'T BEEN FIRED FROM FOX NEWS YET


An investigation by The New York Times has found a total of five women who have received payouts from either Mr. O'Reilly or the company in exchange for agreeing to not pursue litigation or speak about their accusations against him. The agreements totaled about $13 million.



GRANDMA ANNA WINTOUR WELCOMES GRANDDAUGHTER


She has been the editor-in-chief of Vogue for nearly 30 years. But Anna Wintour's latest role is of a doting grandmother. Her son Charles Shaffer and his wife Lizzy welcomed their first child into the world

on Tuesday

. Caroline is the 67-year-old editor of Vogue's first grandchild.



FACEBOOK AND OTHERS WILL SPEND $14 MILLION FIGHTING FAKE NEWS


The News Integrity Initiative will launch with $14 million from Facebook, the Ford Foundation, Mozilla and others, based at the City University of New York's journalism school, which will coordinate research, projects and events.



CONDE NAST'S GQ BEEFS UP FOOD AND TRAVEL CONTENT WITH NEW "TRAVEL & EATS" VERTICAL


The GQ.com home page previously encompassed Food and Travel tabs. But today, coverage of those topics enters a new digital era with the launch of dedicated vertical T&E (Travel & Eats).

SNAPCHAT LAUNCHES NEW SEARCH FEATURE TO MAKE CONTENT MORE ACCESSIBLE TO USERS
This opens up the massive amount of content that Snapchat has drawn from its 158 million users to contribute to its "Stories" feature, which launched in October 2013. The company is using advanced machine learning to evaluate caption text, time and visual elements, to create new stories out of those Snaps.



WAS THE NEW YORK POST'S PUSH ALERTS HACKED, OR DID A STUPID APRIL FOOLS JOKE GO WRONG?




On Saturday

night, the newspaper's push alerts became a little ominous, with rhetorical flourishes that evoked both the Bible and Nazi Germany. Was the account hacked or was it an April Fools' prank gone wrong? Alternatively, does the outlet truly want you to, "Open your heart to those you do not understand and listen to all those you fear and look down upon"?



MAGAZINE MEDIA INDUSTRY RELYING ON TRICKS AND GOODIES TO SURVIVE?


Good journalism is simply not enough to sustain magazine revenue these days, according to two business-side veterans who spoke at a panel at Columbia Journalism School

on Monday

. "Magazines don't make sufficient money just by producing a magazine," says David Rose, publisher of the history-focused literary magazine Lapham's Quarterly. "You have to do all kinds of tricks and goodies to make it break even."



CONFUSION AND CARELESSNESS AT VIACOM'S BET NETWORK


Viacom's executive shake-up at BET is "next-level crazy." The network's CEO Debra Lee sent out a memo

Wednesday

announcing executives Stephen Hill and Zola Mashariki would be stepping down, but we're told Mashariki is still under contract and was blindsided by the announcement.



AS BRANDS PULL THEIR ADS FROM VIDEO BEHEMOTH YOUTUBE, THE COMPANY IS UNFAZED


After the Times of London published an exposé about YouTube ads appearing against racist videos, brands began to pull their ads in a move to gain possible leverage. Brands and publishers want to get power back from powerful platforms, but at least so far, the damage appears negligible.



TRONC IS STILL THINKING ABOUT BUYING THESTREET.COM


In recent months, chief Michael Ferro has revved up Tronc's acquisition efforts. The newspaper company is said to be mulling a bid for online business news outlet TheStreet, though it's not clear that the firm tied to "Mad Money" star Jim Cramer is for sale.



DONALD TRUMP SAVED THE MEDIA INDUSTRY


Matt Drudge gave a rare interview on Michael Savage's nationally-syndicated radio program to provide his take on the Trump presidency thus far, the media, Hillary Clinton, and the future of the nation. Drudge said Trump "saved the media."



HULU LOSES MARKETING CHIEF TO LIVE TV


Hulu head of marketing Jenny Wall is leaving the streamer as it begins the search for a chief marketing officer to help oversee its expansion via its forthcoming live TV service. Wall, who is said to have made the decision to leave, will stay with Hulu through the end of May.


Don't forget to share this morning's issue with colleagues and friends by clicking/tapping the button below
[post_ad]
Your Media Morning: Is Time Inc Stifling itself? GQ Launches New Travel And Eats Vertical, Snapchat Search...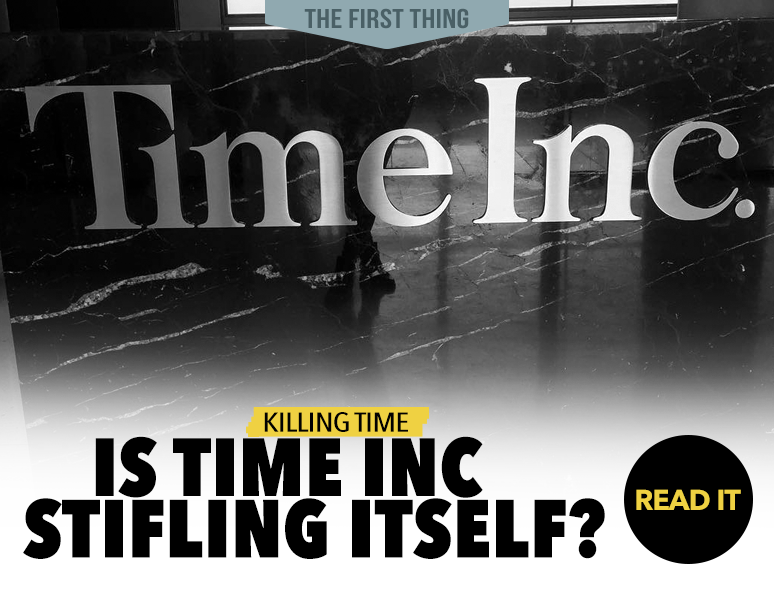 Reviewed by
Editor
on
Monday, April 03, 2017
Rating: