Your Media Morning: Apple's New Headquarters Lifts Off in April, Financial Times Cuts 20 Due to Print Decline, Twitter Keeps Losing Execs
WAIT... SAY WHAT NOW?
"
Steve's vision for Apple stretched far beyond his time with us. He intended Apple Park to be the home of innovation for generations to come
"
APPLE CEO TIM COOK ON THE NEW APPLE PARK CAMPUS



HERE IS WHY APPLE IS NOT BUYING NETFLIX


Apple is a potential buyer that comes up every so often, and it did so again in a CNBC article last night. Anita Balakrishnan's piece argues that the "best argument" for Apple buying Netflix is that App Store spending on entertainment programs is soaring, and the consumer tech giant may as well nab the top dog to beef up its growing services revenue. Don't wait up for a wedding invitation.



TIME WARNER CEO JEFF BEWKES SOLD 172,932 SHARES OF STOCK


Time Warner Inc. Chairman Jeffrey L. Bewkes sold 172,932 shares of the stock in a transaction that occurred on Tuesday, February 21st. The shares were sold at an average price of $96.39, for a total transaction of $16,668,915.48. Following the completion of the sale, the chairman now directly owns 699,379 shares of the company's stock, valued at approximately $67,413,141.81. The transaction was disclosed in a filing with the SEC, which is available through the SEC website.



SNAP INC INSTALLS ADOBE VP TO LEAD ITS RESEARCH GROUP


Snapchat parent company Snap Inc. has found a new executive to lead a significant expansion of its Snap Research group: San Francisco-based computer scientist David Salesin, a computer graphics star and former University of Washington professor who has worked at Adobe Research for the past eleven years. The appointment, which comes as Snap preps for its upcoming IPO, hasn't been publicly announced by the Venice, Calif.-based company.

NEW YORK TIMES NAMES EDITOR TO LEAD DAILY ONLINE AND PRINT COVERAGE
The New York Times

on Wednesday

is adding the third woman

in three weeks

to the newsroom's highest ranks, as the company continues to shake up its top leadership. Alison Mitchell, who oversaw the paper's daily news report through the presidential election, will become an assistant editor on the masthead. Along with Matthew Purdy, a deputy managing editor, she will steer the daily online and print coverage, including selecting articles for the front page.



FORBES SAID ALMOST HALF ITS WEBSITE VISITORS ARE MILLENNIAL


While Forbes magazine publishes 15 times a year, the Forbes website sees about 56 million visitors a month. Nearly half are considered part of a millennial demographic. More than 50 percent, and sometimes up to 70 percent, of digital readers come from mobile devices.


AD REVENUE AT TRONC DIVES ALMOST 14% BUT COMPANY STILL MADE A PROFIT
The company's revenue, like other newspaper chains, was down in Q4 - in this case, 6.9 percent. Ad revenue fell 13.7 percent, a bit more than some newspapers have reported. But it improved its bottom line thanks to a 14.2 percent reduction in expenses. That reduction was achieved though headcount reductions, of course.
WILL SNAP INC'S HEADQUARTERS BE AN ISSUE FOR INVESTORS?
Snap's headquarters are unlike those of any other company. It's a handful of low-slung buildings scattered across the expensive real estate landscape of Venice, California. The main office is a stone's throw from Venice's famous boardwalk, teeming with tourists and joggers, and just a bit further from the surf. The offices make up more than 300,000 square feet across buildings...
JOURNALISTS CALL ON FACEBOOK, GOOGLE AND OTHER TECH GIANTS TO FUND JOURNALISM
What independent journalism needs more than ever from Silicon Valley is a significant transfer of wealth. Publishers agree with this notion, although the loudest proponents are often those who would benefit the most from it. It is not necessarily enough just to re-energize existing institutions (although the involvement of Jeff Bezos and his money at The Washington Post has been, from a civic and journalistic point of view, wholly beneficial). Mark Zuckerberg has a taste for grand gestures and "moon shots," in Valley parlance. Now, he has a chance to make a generational intervention which will dramatically improve the health of America's journalism.
FORMER JOURNALIST TURNED HEAD OF FACEBOOK NEWS PARTNERSHIPS CAMPBELL BROWN LOOKS TO SMOOTH THINGS OVER WITH THE MEDIA
Facebook's new head of news partnerships, Campbell Brown, is seeking to mend the company's relationship with the media through a series of off-the-record get-togethers at her Tribeca home. Over food and drinks on Jan. 24, Brown hosted a roundtable of top editors and executives at prominent US news outlets, including the New Yorker's David Remnick, the New York Times' Andrew Ross Sorkin, Vox's Melissa Bell, and USA Today's Joanne Lipman.
AWESOMENESS TV BOSS IS STEPPING ASIDE
Brian Robbins, the founder and CEO of teen/tween video network AwesomenessTV, is leaving the company. In a memo to his staff, Robbins says Brett Bouttier, Robbins' lieutenant, will stay on and run AwesomenessTV. Robbins' announcement comes after months of industry speculation about his future, and it comes after AwesomenessTV's complicated ownership structure appears to be settled.
THE FINANCIAL TIMES LOOKS TO CUT 20 EDITORIAL JOBS AS PRINT CONTINUES TO COLLAPSE
The Financial Times, the salmon-colored newspaper bought by Japan's Nikkei Inc. in 2015, is eliminating 20 editorial jobs globally through attrition to cut costs as print revenue declines, according to people familiar with the matter. The newspaper is offering a handful of voluntary buyouts and won't replace some people who are leaving, which will cause headcount to shrink, said Kristina Eriksson, an FT spokeswoman, in an e-mailed statement. The Financial Times has about 600 editorial staff worldwide.
DISNEY BUYS 3D DOLL PRINTING START UP MAKIELAB
MakieLab, a London-based startup that 3D printed and sold custom dolls, has officially shuttered, with a partial exit to Disney. TechCrunch understands that the U.S. entertainment company acquired MakieLab's tech and assets as early as July last year, a story that I have tried but failed to nail down ever since. Until now, that is.
TIME WARNER AND CNN BEING TARGETED BY RIGHT WING OPERATIVE
Project Veritas head James O'Keefe announced on a radio show that he is targeting the mainstream media, specifically CNN, in his newest set of leaks. Speaking on Sean Hannity's show, O'Keefe claimed he has "hundreds of hours of tape" that he will be releasing "Wikileaks style"
on Thursday
.
TWITTER KEEPS BLEEDING EXECUTIVES
Twitter can't seem to stop the management bleeding, which is complicating its attempts to pull off a turnaround after a tough year of layoffs and sinking share price. Its head of entertainment talent, Lara Cohen, a major figure leading partnerships with content creators, left the company.
WASHINGTON POST HAS A NEW SLOGAN
In an era in which the U.S. president refers to the media as "the enemy of the American people," the Washington Post is reinforcing its mission statement to remind its audience what journalism really stands for. The new catchphrase, "Democracy Dies in Darkness," appeared last week.
-
Good MEDIA Morning To You! Don't forget to share this morning's issue with colleagues and friends.
[post_ad]
Your Media Morning: Apple's New Headquarters Lifts Off in April, Financial Times Cuts 20 Due to Print Decline, Twitter Keeps Losing Execs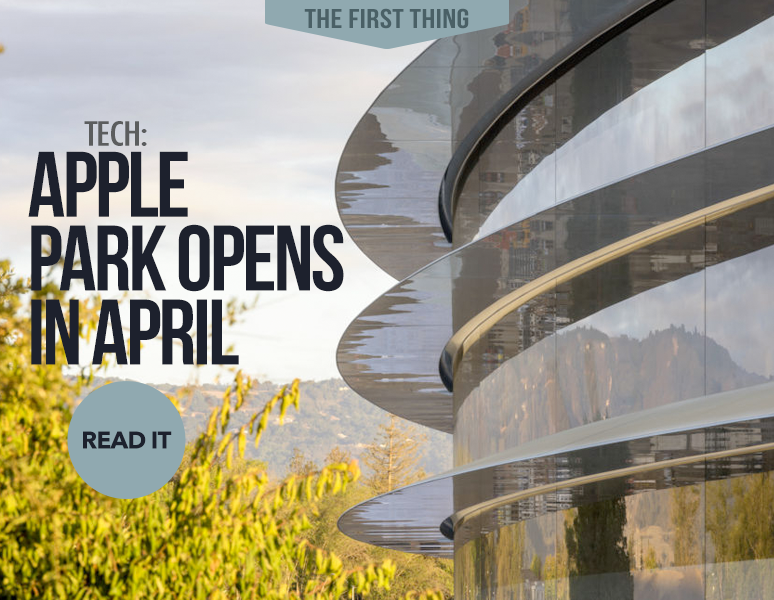 Reviewed by
Editor
on
6:00 AM
Rating: