Your Media Morning: Building Conde Nast's Digital Strategy, Vice Looks to Raise Money, No Break Up For Time Inc...
WAIT... SAY WHAT NOW?
"
When you started to poke around, it was obvious there wasn't much there
"
FORMER EXEC ON MAKER STUDIOS



TIME INC ACCUSED OF USING BREAST PUMP PHOTO WITHOUT PERMISSION


According to the complaint, the plaintiff alleges that he suffered damages from having his photograph of a breast pump used without authority. The plaintiff holds Time Inc. and Does 1-10 responsible because the defendants allegedly copied and publicly displayed plaintiff's photograph on their website.

NO BREAK UP OF TIME INC FOR NOW

A breakup of Time Inc. into pieces is not likely to occur — at least under the current talks between the publisher and suitors. Meredith Corp., owner of TV stations and magazines such as Martha Stewart Living and Better Homes and Gardens, is primarily interested in monthly magazines aimed at women. But it would have to buy the entire company to get its hands on those select titles.

SNAPCHAT IS CLOSE TO LOCKING DOWN A $200 MILLION AD DEAL

Snap Inc., weeks away from it much-anticipated IPO, is close to inking its first major advertising deal with an unnamed ad holding company, The Post has learned. If the deal is complete — and there's no guarantee it will close — Snapchat could win up to $200 million in guaranteed future ad commitments, sources said. The deal could close around the time of the March initial public offering.

NEW YORK TIMES IS TESTING MOBILE SPECIFIC HEADLINES

After 10 months of A/B testing its headlines seriously, the New York Times has started slicing its audience into finer segments, albeit informally. Last week, a story about airlines abandoning their in-flight entertainment systems got two headlines, one of which spoke directly to the fact that readers were likely holding the reason that airlines were making that move.

DISNEY BOUGHT MAKER STUDIOS BACK IN 2014, BUT ACCORDING TO ONE FORMER EXEC, IT WAS AN EMPTY SHELL

"I was excited to be there — I thought it was going to be the next big thing," said one former Maker exec, who joined the company following the acquisition. "But when you started to poke around, it was obvious there wasn't much there."
INVESTOR FEARD BY CEOs TAKES STAKE IN TRIBUNE MEDIA
The man dubbed "the investor CEOs fear most" has taken a stake in Tribune Media, the Chicago broadcast company that runs 42 local TV stations nationwide and cable operator WGN America. New York hedge fund Starboard Value disclosed today in a filing with the Securities and Exchange Commission that it has acquired a 6.6 percent stake in Tribune Media, and noted that it may "engage in communications with management and the board of directors.
FALLEN CONSERVATIVE WRITER AND SPEAKER MILO YIANNOPOULOS PLANS TO LAUNCH HIS OWN MEDIA VENTURE
Following a bizarre 24 hours that lead to him being removed as a speaker from CPAC, his book deal being canceled by Simon *& Schuster and losing his job, Milo Yiannopoulos was defiant during a press conference yesterday and even vowed to launch his own media venture being that no one will touch him following disturbing comments he made about young children. He also insists that his book will still be published and will include a whole new chapter about his current ordeal.
FACEBOOK IS IN TALKS WITH MAJOR LEAGUE BASEBALL ABOUT LIVE STREAMING GAMES
Facebook Inc is in talks with Major League Baseball to live stream one game per week during the upcoming season, which could be a key win as the social media platform works to offer more live sports, according to two people familiar with the situation. Facebook has pushed to sign deals with owners of sports rights to live stream their games, going after an audience that competitor Twitter Inc is also trying to capture,
VICE LAUNCHING FUNDRAISING EFFORT TO FINANCE SCRIPTED SHOWS AND MOVIES
Led by Chief Executive Officer Shane Smith, Vice dipped its toe into scripted programming last year with the release of the film "The Bad Batch" and the acquisition of a stake in Pulse Films, a U.K.-based production company that made the movies "American Honey" and "Who is Dayani Cristal?" Vice would use any additional money to ramp up internal production. The fundraising process is in the very early stages. It's not immediately clear how much Vice would seek to raise. Vice declined to comment, as did Raine and Morgan Stanley.
RUPERT MURDOCH IS ACTIVELY CAMPAIGNING AGAINST THE AT&T TIME WARNER DEAL
Rupert Murdoch — a never-Trumper who has worked his way back into the new president's graces — now regularly lobbies Trump against AT&T and Time Warner's tie-up, urging the president to move review of the deal from the Justice Department's antitrust division, with its high hurdles to blocking a deal, to the FCC, which needs only to find the deal not in the public interest in order to block it.
VIACOM SETS UP INTERIM COMMITTEE TO LEAD PARAMOUNT PICTURES UNTIL A NEW CHIEF IS NAMED
The internal committee that will lead the studio in the wake of Brad Grey's departure includes Andrew Gumpert, the Sony alum who joined Paramount as chief operating officer in November; Megan Colligan, president of distribution and marketing; Evans, president of the motion picture group; and Powell, president of TV and digital. There are expected to be other members of the committee appointed, according to an insider. Among the current crop of major studio chiefs, Grey had been one of the longest-serving, having been at his post for 12 years.
ABOUT.COM IS SWITCHING FROM SEARCH ENGINE TO MEDIA HUB
About.com is busy unbundling itself, moving from a one-stop shop for search visitors to a collection of vertical media brands. Next up: The Spruce, a new home and food site, slated for launch on Feb. 22. The Spruce is the latest branded vertical site to come from About.
-
Good MEDIA Morning To You! Don't forget to share this morning's issue with colleagues and friends.
[post_ad]
Your Media Morning: Building Conde Nast's Digital Strategy, Vice Looks to Raise Money, No Break Up For Time Inc...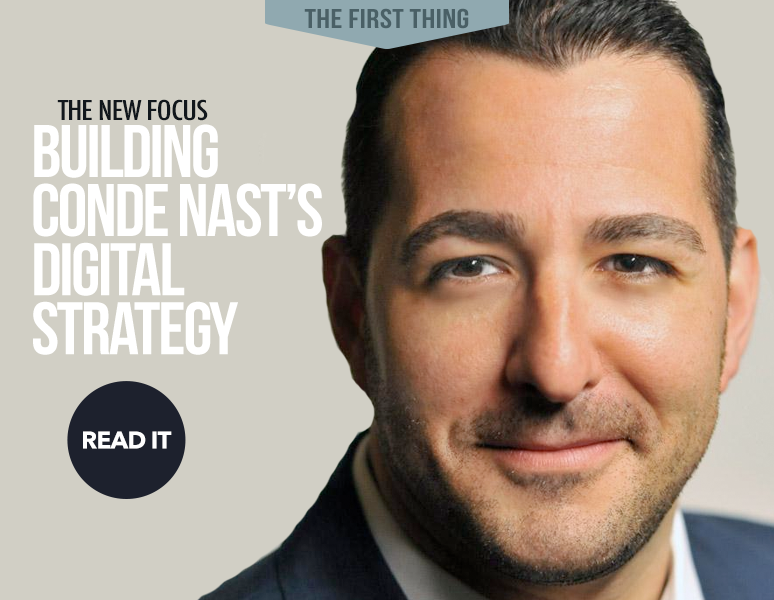 Reviewed by
Editor
on
10:03 AM
Rating: