Your Media Morning: Is Viacom About to Get a New COO? Cooper Hefner Gets his Way, Washington Post Will Break News on Snapchat, Slate Layoffs
WAIT... SAY WHAT NOW?
"
I'll be the first to admit that the way in which the magazine portrayed nudity was dated, but removing it entirely was a mistake
"
PLAYBOY CCO COOPER HEFNER ON GOING NUDE AGAIN
NBC NEWS LAUNCHES HEALTH VERTICAL 'BETTER'
NBC News Digital has launched BETTER, a new vertical devoted to health and wellness, personal finance, careers, relationship and more. As the second new content vertical on
nbcnews.com
, BETTER isn't just about feeling better, but about being better. Its content will cover how to make the most of your time, money, body and other aspects of life with actionable insight that makes a difference.
COOPER HEFNER GETS HIS WAY, PLAYBOY TAKES ITS CLOTHES BACK OFF
A year after the famed but struggling men's magazine stopped featuring photographs of naked women, it has apparently had a change of heart. From now on, women will shed much of the scanty clothing that had been covering them up. Cooper Hefner, a son of the Playboy founder Hugh Hefner, signaled the change in a Twitter post
on Monday
: "I'll be the first to admit that the way in which the magazine portrayed nudity was dated, but removing it entirely was a mistake," he said in a quotation superimposed over a photograph of himself. "Nudity was never the problem because nudity isn't a problem. Today we're taking our identity back and reclaiming who we are."
WASHINGTON POST DEBUTS ON SNAPCHAT
The Washington Post launched its first edition of Snapchat Discover
Monday
, bringing more political and hard news coverage to the app ahead of its initial public offering. The outlet will update their channel throughout the day, seven days a week, cementing itself as Snapchat's first breaking news partner.
FOUR-TWO-NINE MAGAZINE NAMES EAST COAST EDITOR
Hal Rubenstein has been named the East Coast editor of FourTwoNine, the L.A.-based men's lifestyle magazine. In his new role, Rubenstein will write a weekly dispatch from New York for the magazine's web site, as well as contribute feature stories and interviews to the print publication.
DISNEY DROPS YOUTUBE STAR AFTER ANTI-SEMITIC POSTS
YouTube sensation PewDiePie gained notoriety for his crass commentary, but now he's facing backlash for a series of videos viewers say crossed the line. The YouTube star, whose real name is Felix Kjellberg, posted nine anti-Semitic videos to his channel, which has 53-million subscribers, according the Wall Street Journal. The videos either had anti-Semitic jokes or imagery related to Nazis
IS APPLE MOVING CLOSER TO BUYING A BIG MEDIA COMPANY?
Apple now has a new TV show, a reality series showing app developers vying for new investment dollars. It's called "Planet of the Apps." Kitschy. The series was designed to promote Apple Music, since that's where the show will be distributed, but it's actually a way to differentiate Apple Music from Spotify. "Planet" was produced by Ben Silverman, a former co-chair of NBC Entertainment who was also behind hit shows like "Jane the Virgin" and the U.S. version of "The Office."
INSIDE HEARST DIGITAL MEDIA'S VIDEO STRATEGY
From acquisitions to new hires, Hearst has stayed extremely proactive and visible the past year. In November, the company took over CAMP Systems International Inc., and just last month purchased publishing company The Pioneer Group. Last June, Hearst hired video veteran Saj Pothiawala. With a résumé that includes positions at Buzzfeed and CollegeHumor, Pothiawala was tapped to join the Facebook Live team at Hearst Digital Media.
NETFLIX NEEDS A TON OF CONTENT
With the rising global success of its platform, the streaming service Netflix aims to deliver the biggest and most diverse slate in Netflix history - with more than 1,000 hours of new series, films, stand-up specials, documentaries and more for members around the world, the company announced.
AD REVENUES UP SLIGHTLY AT DISCOVERY COMMUNICATIONS
Discovery Communications, the company behind such cable networks as the Discovery Channel, TLC and OWN,
on Tuesday
reported its fourth-quarter earnings. The company, led by CEO David Zaslav, reported earnings of $304 million, compared with $219 million in the year-ago period. Earnings per share reached 52 cents, or 56 cents on an adjusted basis, compared with 34 cents per share in the year-ago period, and 38 cents on an adjusted basis.
AMAZON IS THINKING ABOUT LAUNCHING ITS OWN PREMIUM CABLE CHANNEL
Amazon is said to be weighing a charge into the premium TV and movie channel business. The Jeff Bezos-helmed e-commerce giant is reportedly in the early stages of discussions about developing a new paid channel carrying high-end dramas and movies of its own.
SLATE CONTINUES TO EVAPORATE
Slate is said to have laid off about a half-dozen full-time staffers and contract writers. Editor-in-chief Julia Turner notified staff of the cuts
Monday
. Politics editor Tommy Craggs, senior editor Rachael Larimore and associate editor Laura Anderson were among the employees let go, according to sources.

-Good MEDIA Morning To You!
[post_ad]
Your Media Morning: Is Viacom About to Get a New COO? Cooper Hefner Gets his Way, Washington Post Will Break News on Snapchat, Slate Layoffs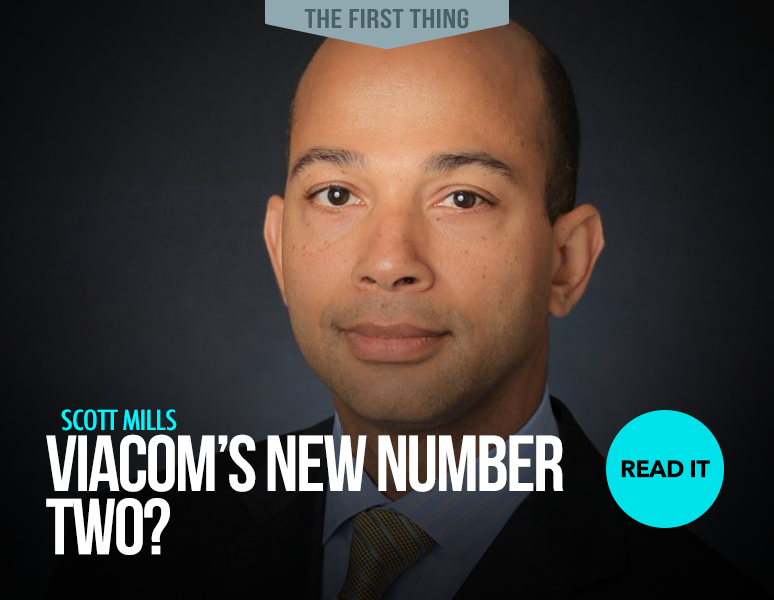 Reviewed by
Editor
on
11:25 AM
Rating: