After a High and Low Search, The Atlantic Ups Digital Design Director David Somerville to Creative Director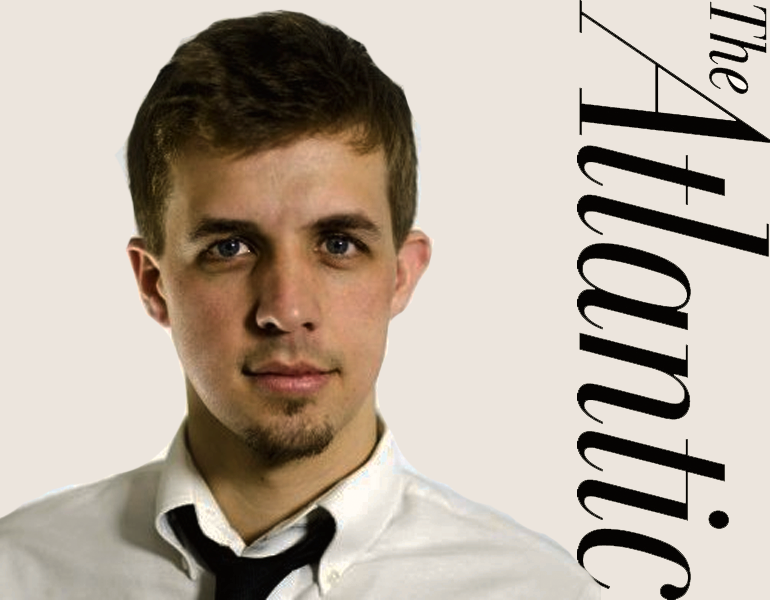 David Somerville who has served as design director for The Atlantic for the past year has been bumped up (again) to serve as the publication's new creative director. In his role Mr. Somerville will oversee design across all platforms including TheAtlantic.com, Live Events and Atlantic Studios. When he joined Atlantic Media back in 2011 as a web designer for its Government Executive Media Group he got promoted to design director for that group after just 5 months. Then after that he literally got promoted every 1.5 years which makes him a fast rising star within the company. Editor in chief Jeffrey Goldberg announced his latest promotion to Atlantic's staff via the memo below:
Hello, all,

I'm writing this morning with great news. After months of searching high and low for the right person to lead our cross-platform design effort, I'm pleased to announce that we have found The Atlantic's new creative director at… The Atlantic. David Somerville, our digital design director, is one of the brightest and most innovative (and collegial) young designers in America, and I'm thrilled to let you know that he's agreed to step up to the role of creative director for the whole of our enterprise.

As the discerning among you will quickly deduce, David's promotion to creative director suggests a shift in the way we are thinking about this role. Traditionally, the creative director has been mainly preoccupied with the design of the print magazine. David, in tandem with the fantastic team of Paul Spella, Zak Bickel, and Katie Martin, and building on the excellent work of Darhil Crooks, will supervise the all-important cover design process, and the design of the magazine as a whole, and he will work closely with Scott Stossel in the coming weeks to assess the long-term needs of the magazine. Bob and I stand ready to work with the two of them to guarantee that the magazine has everything it needs to achieve enormous aesthetic and journalistic success.

But David's elevation to this new role does indeed mean that we are thinking about ways to integrate The Atlantic's visual language and design execution across all of our platforms. Platform integration is one important key to our success. I'm excited to have David's help as we think through how we use all of our platforms (and platforms that don't yet exist) to collectively tell the most important and compelling stories of the day. He will be working closely with John's team, and Kasia's team, and he will consult and collaborate with the Live team as well. As many of you know, he has, with Kim Lau and her excellent product and development team, already been working relentlessly to redesign our homepage. Their work has been stellar, and I can't wait to show the world the finished product. (I should also note that David is leading the redesign of the CityLab website.) I also can't wait to unleash David on other aspects of The Atlantic; I've informed him that he's in charge of finding new furniture to replace that godawful table in the Roanoke Room.

I did not know David very well at all before I came to this job in October. Getting to know him has been one of the joys of my new role. David is homegrown talent. He's been rising in the ranks of Atlantic Media for several years, starting as a web designer at GovExec and then moving up to the creative director role at National Journal before joining Kim's team in 2015. David is a committed and talented designer who understands extremely well what we're trying to achieve, and who has a deep love for the history and traditions of The Atlantic; he is a person who is keenly collaborative, and one who embodies this company's commitment to nurturing a spirit of generosity.

David's elevation to creative director means more good news for The Atlantic - the very talented DJ Brinkerhoff, who has worked alongside David on the digital design team, will be promoted to the role of product design lead. Please congratulate him, and please congratulate David. Onward.
[post_ad]
After a High and Low Search, The Atlantic Ups Digital Design Director David Somerville to Creative Director

Reviewed by
Editor
on
9:48 AM
Rating: