Is The New York Observer For Sale?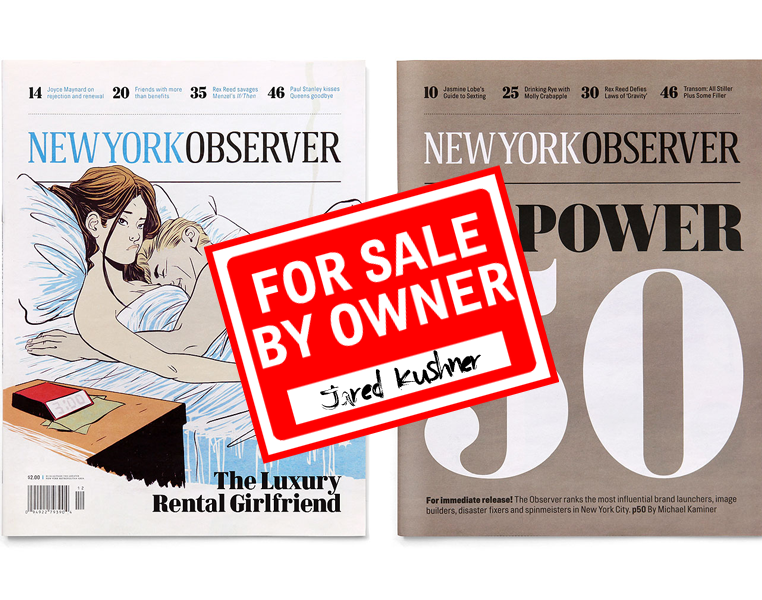 Jared Kushner who has been busy these days helping out his father in law Donald Trump with putting together his administration hasn't had time for much else. His family's real estate empire practically runs itself and The New York Observer which he bought back in 2006 and recently shut down its print edition, is overseen by his brother in law Joseph Meyer as CEO of Observer Media Group. But it looks like Jared is ready to move on from The Observer. According to
WWD
, Kushner has been shopping the paper trying to unload it, perhaps before he drops everything and moves to Washington DC with wife Ivanka Trump. However, Joseph Meyer denies the property is being shopped to potential buyers but admits that because it is one of the "fastest growing" businesses in all of digital media, they are constantly approached by individuals drooling to get their hands on the Observer. Some buyers being floated includes American Media Inc which is also being floated as a potential buyer for Wenner Media's Us Weekly. But some are skeptical of such a scenario. The Observer under AMI immediately sparks images of the storied new york property becoming another tabloid in the AMI stable. Also, AMI may not have the financial room for an acquisition right now, but we could be wrong.
UPDATE:
An AMI spokesperson said that "There are absolutely no discussions regarding an acquisition of the Observer."
Is The New York Observer For Sale?
Reviewed by
Editor
on
6:41 AM
Rating: