Your Media Morning: Pay Raise for News Corp Boss, Facebook's Fake News Trends? Hef's Magazine Gets to The Party Really Late...
BLEACHER REPORT WILL BROADCAST HIGH SCHOOL FOOTBALL GAMES VIA FACEBOOK LIVE
Are you ready for some football? How about some high school football on Facebook Live? Bleacher Report sure hopes so, as the Turner-owned sports media publication plans to broadcast three full high school football games on Facebook this fall. On
Friday, Oct. 14
, Bleacher Report's Facebook page will host a match-up between Sylvan Hills from Atlanta and Pulaski Academy from Little Rock, Arkansas.
TIME INC'S ESSENCE.COM RELAUNCHES
Yolanda Sangweni, Site Content Director speaks on the new Essence.com: "The new Essence.com is the place where "Black Girl Magic" comes to life, The responsive and clean design is a visual celebration of what it means to be a Black woman now. The site is uniquely designed to give Black women the information they long for—everything from celebrity hot topics, topical news, beauty and style tips to Black Love goals."
BUZZFEED EXPANDS ITS E-COMMERCE STRATEGY WITH LAUNCH OF SHOP BUZZFEED
If you like your socks with milkshakes and French fries, good news: BuzzFeed has a store for you.This summer, the online news and entertainment giant launched
Shop BuzzFeed
, a store where fans can browse for swag created by the site's illustrators and designers.
ON DISNEY POSSIBLY ACQUIRING VICE MEDIA, VICE NEWS BOSS JOSH TYRANGIEL SAYS "WHAT HAPPENS HAPPENS"
Tyrangiel's news division is just one part of Vice, the 22-year-old digital media company valued at more than $4 billion. That company's largest investor — and the frequent subject of acquisition chatter — is the Walt Disney Company, which has put in $400 million to date.
TO BUILD ITS BRAND, BUSTLE.COM TURNS TO MEMES AND ILLUSTRATIONS
Tricked out with whimsical illustrations and memes, Bustle's Instagram feed doesn't resemble that of a typical digital publisher's. But the women's news and lifestyle site's playful drawings is a key part of its brand-building strategy. A comparison of how many items are bought on a grocery trip on a normal day to one where you're "slightly hungry" sits snugly alongside a pie-chart on why yoga pants are so popular (hint: it has little to do with yoga) — and both serve to get its readers clicking.
NEWS CORP IS BUYING SKY NEWS FOR $25 MILLION
Rupert Murdoch's News Corporation is expected to take control of Australian News Channel, which owns subscription television channel Sky News, for between $20 million and $25 million. An announcement is expected in the next few days as negotiations come to a conclusion.
NEW YORK TIMES ROLLS OUT NEW INTERNATIONAL EDITION
The New York Times Company today introduced The New York Times International Edition, a redesigned, improved and more relevant print newspaper and refreshed digital web experience for our audience outside of the United States. The New York Times International Edition features more international news, an increased focus on deep, analytical reporting, enterprise stories and a broader selection of coverage from The Times including culture, technology, travel and other topics relevant to international audiences.
IS FACEBOOK PUSHING FAKE NEWS SINCE IT FIRED ITS HUMAN EDITORS?
As part of a larger audit of Facebook's Trending topics, the Intersect logged every news story that trended across four accounts during the workdays from Aug. 31 to Sept. 22. During that time, we uncovered five trending stories that were indisputably fake and three that were profoundly inaccurate. On top of that, we found that news releases, blog posts from sites such as Medium and links to online stores such as iTunes regularly trended. Facebook declined to comment about Trending on the record.
WILL ELLE'S 8 COVER AUGMENTED REALITY ISSUE CATCH ON OR FIZZLE?
The Elle issue, which hits newsstands
Oct. 18
, features eight covers of actresses Aja Naomi King, Amy Adams, Anna Kendrick, Felicity Jones, Helen Mirren, Kathy Bates, Kristen Stewart and Lupita Nyong'o. Elle produced video interviews of each of them and using RYOT's and Verizon's proprietary platform Envrnmt, when a reader logs into the ElleNow app and hovers their mobile device over any of the eight covers, the cover comes to life with a video interview of the cover face.
BETTER SUPER LATE THAN NEVER
For the first time, Playboy Magazine will be available in the iTunes App and Google Play stores, its parent company, Playboy Enterprises, announced in a release
on Wednesday
. Playboy's digital initiatives are geared toward resonating with younger, more tech-savvy readers, a key customer group that the company wants to reach as it transforms "into a millennial facing lifestyle brand."
TIME WARNER'S WARNER BROS. UNIT IN TALKS TO BUY VIDEO NETWORK MACHINIMA
Warner Bros. is said to be in advanced talks to buy full ownership of online video network Machinima in a deal that values the company at under $100 million. The Time Warner-owned studio already holds a stake in Machinima, having invested in two previous funding rounds in 2014 and 2015.
NEW YORK TIMES FACES A TRUMP LAWSUIT
Donald Trump is firing back at a New York Times report that claims he touched two women inappropriately and will reportedly sue the newspaper over the story. The Times reported
Wednesday
evening about two women who claim that Trump was sexually aggressive with them.
THE MURDOCHS PLAY MUSICAL OFFICES
The Murdochs apparently don't like to waste empty office space. Lachlan Murdoch, 21st Century Fox executive chairman, has moved into Jim Gianopulos' former office in Building 88 on the Fox lot. Murdoch's father, Rupert Murdoch, also exec chairman of 21st Century Fox, has been making use of the office of Roger Ailes, the fired Fox News chairman.
-Good Morning
[post_ad]
GET THE MEDIA MORNING
NEWSLETTER
Your Media Morning: Pay Raise for News Corp Boss, Facebook's Fake News Trends? Hef's Magazine Gets to The Party Really Late...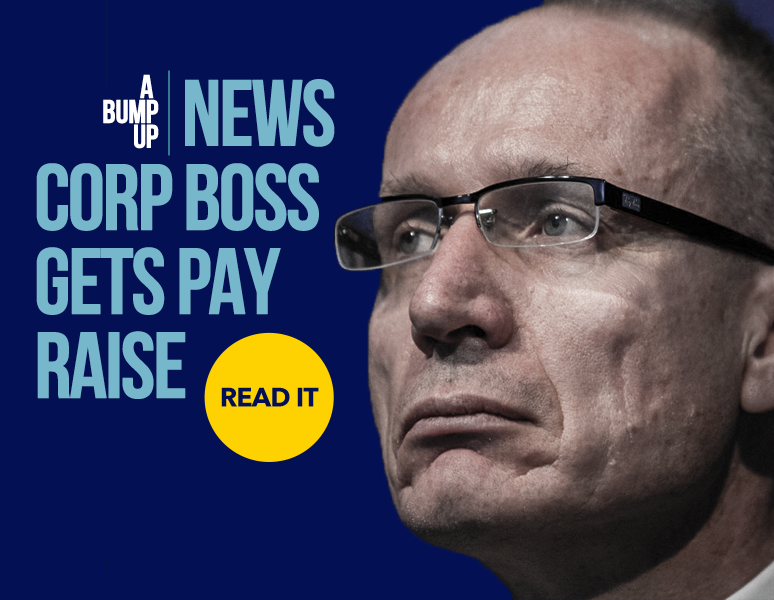 Reviewed by
Editor
on
10:15 AM
Rating: