Time Inc's Sports Illustrated Launches Caitlyn Jenner Multi-Platform Special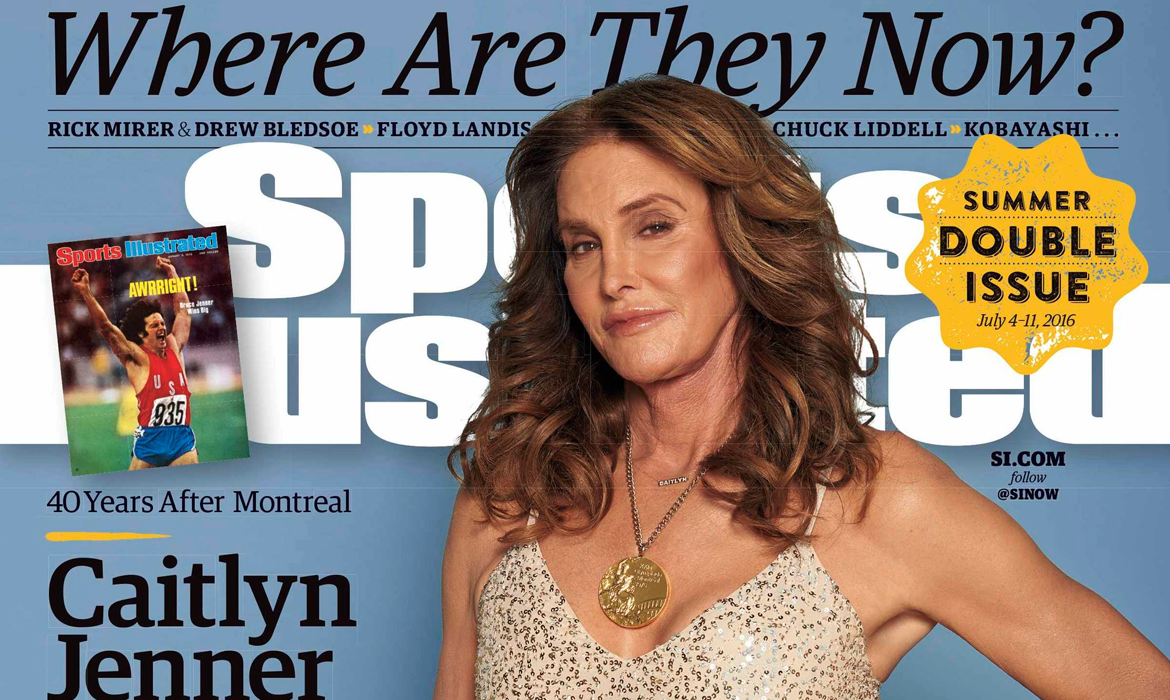 From Sports Illustrated:
TIME INC.'S SPORTS ILLUSTRATED REVEALS MULTI-PLATFORM SPECIAL FEATURING CAITLYN JENNER 'S 1976 DECATHLON GOLD — ONE OF THE GREAT OLYMPIC PERFORMANCES OF ALL TIME SI Films Exclusive Premieres Today on SI.com with Cover Story by SI's Tim Layden

Jenner Featured on New Cover of Sports Illustrated Wearing Gold Medal
(New York, June 28, 2016)— Sports Illustrated today released a multi-platform, 40th anniversary retrospective of Caitlyn Jenner's 1976 Gold Medal-winning decathlon performance at the Montreal Olympic Games. The
SI special
includes the premiere of the SI Films exclusive, "Jenner: 40 Years After Gold," the publication of SI Senior Writer Tim Layden's in-depth profile and the reveal of Jenner on the new cover of Sports Illustrated wearing her gold medal. Jenner gave exclusive and extensive access to SI over a series of interviews and locations, sharing her perspective on the journey that led her to the historic gold medal performance. She also spoke openly about the legacy of winning the gold and its impact on her journey as a transgender woman in the public eye.
Watch the 22+ minute SI Films exclusive, read Tim Layden's full story and see the new SI cover now at:
SI.com/Jenner
For the special, SI and Jenner traveled to key locations on the Olympian's path, walking the track at the University of Oregon, where she qualified for her first Olympics in 1972, and also visiting San Jose City College, where she trained for the '76 Olympic Games. During these conversations and through interviews conducted at her Malibu home, Jenner offered candid reflections of the games and what it meant to be an Olympic champion. SI Senior Writer Tim Layden also spoke to a wide range of people close to Jenner, including former teammates and current Olympians, who shared new and personal stories about their relationships then and now. The SI cover was shot by photographer Yu Tsai at Jenner's home in Malibu.
The SI Films exclusive, "
Jenner: 40 Years After Gold
" can be embedded in your post for online coverage, and select clips and b-roll video are available for broadcast use upon request. The new cover of SI is attached and can be used in your coverage -- Please cite and link back to SI.com in any coverage. See below for select quotes and highlights from Sports Illustrated's exclusive with Caitlyn Jenner.
+For Twitter:
http://bit.ly/2985SWp
+Watch the trailer for Jenner: 40 Years After Gold:
http://on.si.com/1Uutoda
HIGHLIGHTS FROM SI'S EXCLUSIVE WITH CAITLYN JENNER:
On Bruce Jenner's historic performance in the 1976 Olympics as compared to life today as Caitlyn, she tells SI: "Sports. It's not real life. You go out there, you work hard, you train your ass off, win the Games. I'm very proud of that part of my life. And it's not like I just want to throw it out. It's part of who I am. What I'm dealing with now, this is about who you are as a human being. What did I do for the world in 1976, besides maybe getting a few people to exercise a little bit? I didn't make a difference in the world."
Jenner on the power of the new SI cover image: "It's a picture that brings attention to this issue. That's the important thing. That's why I wore the medal."
Reminiscing on the feeling of winning the gold medal: "For those two days in July of 1976, I was the best in the world at what I did … On the other hand, the decathlon was my best friend, and that was over. I lost my beard."
On Bruce's surprise qualifying victory for the 1972 Olympic Games at the trials in Eugene, Oregon: "That was the greatest athletic moment of my life, even better than the Games in '76. I never thought I could do something like that. But when the time came to dig down really deep, there was something there. And it never left me after that race."
On Jenner's body at the time of being an Olympic champion: "It disgusted me. I was big and thick and masculine. The rest of the world thought it was this Greek god kind of body. I hated it. But it's what I was given, so I just tried to do the best I could with it."
On how sports served as a distraction for the larger issues in Jenner's life: "The decathlon … was the perfect distraction … My life was distraction after distraction after distraction. Being a macho male was a way for me to try to convince myself that the woman living inside of me really isn't living inside me… Obviously, it didn't work."
Caitlyn disavows neither Bruce nor his accomplishments: "I loved Bruce… I still love him today. I like what he did and the way he set an example for hard work and dedication. I'm proud of that part of my life. But this woman was living inside me, all my life, and it reached the point where I had to let her live and put Bruce inside. And I am happier, these last 12 months, than I've ever been in my life."
On Transgender issues and the connection to sports: "When you see what's happening in this country on the bathroom controversy, politicians just don't understand or get it at all. When it comes to this subject, the Olympic movement is far ahead of the rest of the world. Good for them."
On a story told by veteran broadcaster Al Michaels about a time that Bruce asked him if he had ever considered plastic surgery, Jenner says: "I was always considering plastic surgery. When you're gender dysphoric, you're constantly looking at yourself and seeing things that don't look right."
Jenner is featured on the national cover of this week's special "Where are They Now" double issue of Sports Illustrated, hitting newsstands on Wednesday, June 29. This is the latest in a series of major SI exclusives. Earlier this month,
Lionel Messi's
first-person perspective on coming to America for Copa America was the subject of an SI Films production, long-form digital package and magazine cover story. This week, SI will also give multi-platform long-form treatment to Ken Griffey Jr. ahead of his Baseball Hall of Fame induction.
[post_ad] [full_width]
Time Inc's Sports Illustrated Launches Caitlyn Jenner Multi-Platform Special

Reviewed by
Editor
on
June 28, 2016
Rating: