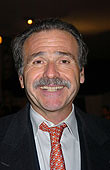 It may be easier said than done, but a change at the top of tabloid giant American Media Inc is well overdue and we think a lot of people feel the same way. Do we really need to get into specifics here? AMI CEO David Pecker has been doing what we think is a poor job of running the company. They have repeatedly missed financial deadlines and sales are dropping at newsstands. Now on top of that sloppy pile of you know what, the SEC is looking into the company's operations. We think if AMI were to be washed clean of all it's stains and bad smells, the company could bounce back bigger and better. Here are a few things the AMI board needs to do and/or consider:




Replace Current CEO Dave Pecker with someone from the outside
Boot CFO Jack Craven and President/COO John J. Miller
Boot Bonnie Fuller and her loyalists
Look into changing the company name
Seek a fresh cash injection from investors, to spend on rolling out a firm digital push and cleaning up some debt
Sell or fold under performing titles.
AMI IN SEC PROBE [NYP]
EARLIER: What will it take for the AMI board to fire David Pecker?