Your Media Morning: Tronc Close to Buying Us Weekly, Architectural Digest Has a New Look, Decision Time at Time Inc
WAIT. SAY WHAT NOW?
"
A magazine has to be served hot, like a meal
"
-WENDY GOODMAN DESIGN EDITOR, NEW YORK MAGAZINE
ARCHITECTURAL DIGEST GETS SOCIAL MEDIA MAKEOVER
The new AD owes some of its DNA to the 10-month period in 1987 when a 38-year-old British fashion editor named Anna Wintour took over House & Garden, shortened its title to HG and upended its arm's length coverage of stately interiors by showing models romping in chintz, children — children! — skateboarding, unmade beds and other revolutions. The similarities are not surprising, given Ms. Astley's reputation as Ms. Wintour's protégée and proxy.
VIACOM IS EXPECTED TO NAME NEW CEO OF PARAMOUNT PICTURES
Viacom CEO Bob Bakish is expected to name Jim Gianopulos chairman and CEO of Paramount Pictures, in what would be a triumphant resurrection for the longtime entertainment veteran after he was unceremoniously dumped last June from his job atop 20th Century Fox. Viacom is also heavily courting producer and former production executive Michael De Luca to be Gianopulos' top lieutenant.



TIME WARNER IS LAUNCHING A $5 MONTHLY SUBSCRIPTION STREAMING SERVICE CALLED BOOMERANG


As AT&T draws closer to officially taking over Time Warner in a $85.4 billion deal, the media/entertainment giant is getting ready to launch a new subscription streaming service called 'Boomerang'. Boomerang, named after the cable network is a buddy up between sibling companies Warner Bros and Turner.



THE UK's BBC AND ITV LAUNCHES BRITBOX VIDEO STREAMING SERVICE IN THE U.S.


British media companies BBC Worldwide and ITV Plc launched BritBox in the United States

on Tuesday

, a new subscription-based video streaming service that includes iconic British shows including "Blackadder", "Fawlty Towers" and "East Enders". BritBox will feature a "Now" category that includes British soaps and other programs, such as "EastEnders" and "Emmerdale", that can be streamed a day after their broadcast in the UK.



DON'T FEEL SORRY FOR NY TIMES' TOP EXECS WHO SAW THEIR PAY SHRINK


Who said print is dead? Executives at The New York Times earned millions last year, despite a volatile print environment. Chief executive officer and president Mark Thompson took a 43.1 percent cut in total compensation last year to $4.9 million from $8.7 million in 2015. But, according to a filing with the Securities and Exchange Commission, his 2016 pay was still higher than his total compensation in 2014, which amounted to $4.5 million.



SNAP'S BIG BET ON THE RISE OF VISUAL CULTURE


Snap calls itself a camera company. That's a bit cute, considering that it only just released an actual camera, the Spectacles sunglasses, late last year. Snap will probably build other kinds of cameras, including potentially a drone. But it's best to take Snap's camera company claim seriously, not literally. Snap does not necessarily mean that its primary business will be selling a bunch of camera hardware. It's not going to turn into Nikon, Polaroid or GoPro.



ITS DECISION TIME AT TIME INC


Time Inc. has four options: Sell itself, sell some magazines, take a private investment. . .or do nothing at all. It's decision time for the iconic magazine publisher, whose board is evaluating bids this week. Time's digital advertising growth is promising, but shareholders may be hoping for a sale.

FORBES' NEW MOBILE SITE HAS TRACES OF THE SNAPCHAT DNA
Forbes.com will look and feel like Snapchat Stories, according to the company, which announced a new mobile Web experience that loads faster and adds visual content. The site navigation is designed like an app. The format, called Cards, takes after Snapchat Stories in that readers swipe through stories, which display a large image and headline, as well as video, infographics or quizzes.



WATCH THIS: HEARST CEO STEVEN SWARTZ TALKS STRATEGY


In an interview with Soledad O'Brien , Hearst president and CEO Steven Swartz talked about his company's 2017 strategy which includes acquisitions.



CBS BOSS LES MOONVES SAID TRUMP'S DEREGULATION IS HELPING CBS


CBS's CEO Les Moonves said

Tuesday

that he is feeling optimistic about the future of the world, suggesting that President Donald Trump's interest in deregulation opened an opportunity for the broadcaster. That being said, he seemed wary of Trump's frequent attacks on the media, with CBS being an occasional target.

ANOTHER NETFLIX RIVAL iFLIX RAISES $90 MILLION
Iflix, a video-streaming service with customers mostly in Southeast Asia, raised $90 million in a round led by telecommunications giants Liberty Global and Kuwait-based Zain to take on Netflix and Napsters in Africa and the Middle East. The investment will also fund expansions throughout Asia.



BUZZFEED GOING AFTER CABLE TV NEWS WITH LIVE VIDEO


BuzzFeed News is making an expanded push into the live video news business, using the aftermath of the 2016 election as a means to try and take on cable news channels in space. The project, which BuzzFeed News is calling "First Amendment Live," is a continuation of BuzzFeed's live video effort, but with a particular focus on the swell of democratic action from both sides of the aisle.



TOP BAUER MEDIA EXEC PASSED OVER FOR THE CEO GIG IS LEAVING TO LAUNCH A NEW VENTURE


In a companywide e-mail

on Monday

, Bauer CEO Steve Kotok — a former CEO of Mental Floss and the Week — wrote, "After 10 years of service to Bauer and five months of invaluable support to me in transitioning the leadership of Bauer US, Sebastian Raatz has decided the time has come to realize his dream of launching his own business."


-Good MEDIA Morning To You!

Don't forget to share this morning's issue with colleagues and friends.


[post_ad]
Your Media Morning: Tronc Close to Buying Us Weekly, Architectural Digest Has a New Look, Decision Time at Time Inc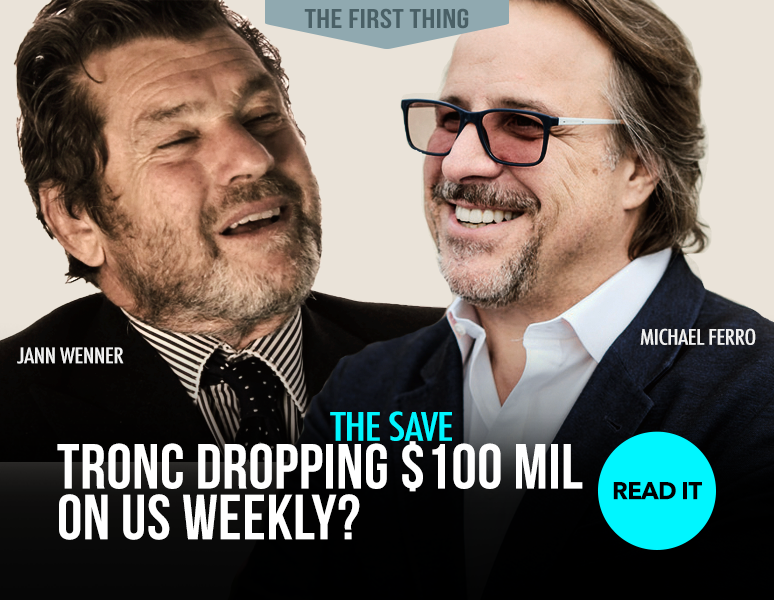 Reviewed by
Editor
on
Wednesday, March 08, 2017
Rating: