Your Media Morning: Time Inc Asks Employees to Come up With New Ideas, Conde Nast is About to be 100 Employees Lighter, Layoffs Coming at ESPN
WAIT. SAY WHAT NOW?
"
There's something really exciting happening at our company. We're taking our brand to really exciting new places.
"
-TIME INC CEO RICH BATTISTA
DAVID LETTERMAN COVERS THE NEW ISSUE OF NEW YORK


I don't watch any of it. I don't watch my old show. I will see clips now and stuff. I was at a thing the other night and so was Lorne Michaels. This guy is now the prince of New York. People are waiting in line to thank him for what he's doing to Trump. He's given us a little breathing room. He's loosened the noose. And the scary goddamn thing is that Don would like that not to be the case.

CONDE NAST IS ABOUT TO BE 100 EMPLOYEES LIGHTER
Conde Nast continues to reshape its business operations. Following a major restructuring lead by chief business officer Jim Norton just a month ago where the publisher title was eliminated in favor of chief business officers and individuals who served as publishers were given the title of chief industry officers.



NEWS CORP'S DOW JONES CONTINUES ITS QUIET PUSH INTO MILLENNIAL FINANCE THIS TIME WITH 'MONEYISH'


Where sites like Vice Money, which launched in October, or Coinage, Time Inc.'s video-focused brand that bowed in February, or Mic Money, which went live last July, are focused on unpacking the day's economic news, or telling people where to park their cash, Moneyish is more about the conversations and feelings that surround money.



IF A SALE OF TIME INC HAPPENS, ITS TOP EXECS WILL ENJOY SOME NICE BONUSES THANKS TO A LAST MINUTE CHANGE TO ITS EXECUTIVE SEVERANCE PLAN


While it is still possible that Time Inc may not sell, the chance of a sale is serious enough that the company quietly filed an SEC 8-K form on

Feb. 1

to amend its change-in-control severance plan. The filing went largely unnoticed by business media, but it protects bonuses for top executives in the event that the company sells, and it extends the severance period and accelerates stock vesting for top executives in the event that they are fired after a sale.



FACEBOOK IS SLOWLY MOVING INTO MUSIC


Facebook has been slowly leaning into the world of music for some time now but the recent announcement that they had lured Tamara Hrivnak, former director of music partnerships at YouTube, to Menlo Park was a clear indication that in 2017 they will be taking music seriously.



NOWTHIS IS PUSHING INTO INVESTIGATIVE JOURNALISM AND LONG FORM VIDEO


Short-form news video giant NowThis is getting into long-form programming, original shows and investigative journalism. The company is embarking on an "aggressive hiring plan" to support the production of more original news reports and video series, according to Athan Stephanopoulos, president of NowThis. Parent company Group Nine Media received a $100 million investment from Discovery last October, bringing together NowThis, Thrillist, The Dodo and Seeker.



NEW YORK TIMES EDITOR CALLS OUT PAPER FOR LACK OF WOMEN IN ITS LEADERSHIP RANKS


Although women have been added to masthead in recent weeks as news editors, as well as heads of the Washington bureau, the arts and culture coverage, the book, photo and video desks, men hold the top one and two spots in the chain of command with Dean Baquet as executive editor and Joseph Kahn as the recently named managing editor. The two tiers below them are also heavily male. In addition, male reporters outnumber women in significant numbers

FOX LETS THE EU KNOW THAT IT WANTS TO BUY THE REMAINING 61% OF PAY TV GIANT SKY
Under EU rules, the European Commission now has about a month to decide if the deal would "significantly" reduce competition. Analysts have highlighted that the EU would have allowed News Corp., which later split into News Corp and Fox, to take full control of Sky in 2011. But the company back then pulled its offer amid the phone-hacking scandal.

BLENDING CONTENT AND COMMERCE WAS NO WALK IN THE PARK FOR JACK OF THREADS
Thrillist had to concede what Refinery29 did a year before: that the e-commerce business is a low-margin grind, and content and commerce were hard to mix organizationally. In 2015, Thrillist spun off JackThreads into a standalone business. "At a certain point, these businesses have each become living, breathing creatures, and to share a source of food is not the most productive," Lerer said at the time. The flash sales fad was on the wane, so JackThreads switched to a risky try-on-at-home sales model.

FACEBOOK INTRODUCES 'DISPUTED' TAGS ON FAKE NEWS IN ITS NEWS STREAM


On Friday

, Facebook debuted its new flagging system for fake news in America, tagging hoax stories as "disputed" for some users. First announced amid criticism of the company for its role in spreading misinformation during the 2016 election, the new feature uses non-partisan third parties to assess the factual accuracy of stories reported as fake by users.



MAJOR LAYOFFS COMING TO DISNEY'S ESPN DIVISION BEHIND RATINGS COLLAPSE


ESPN is expected have significant cost-cutting over the next four months on its talent side. Multiple sources said ESPN has been tasked with paring tens of millions of staff salary from its payroll, including staffers many viewers and readers will recognize. Those with contracts coming up could be particularly vulnerable. This as ESPN president John Skipper talks plans for STREAMING VIDEO

WOMEN'S MAGAZINES LEAD CONTINUED DECLINES AT NEWSSTANDS
The steady drumbeat of declining magazine newsstand sales continued last year; 2016 brought another double-digit drop in the total number of single-copy sales, according to MagNet. Women's interest titles led the decline, followed closely by celebrity titles.



-Good MEDIA Morning To You!

Don't forget to share this morning's issue with colleagues and friends.


[post_ad]
Your Media Morning: Time Inc Asks Employees to Come up With New Ideas, Conde Nast is About to be 100 Employees Lighter, Layoffs Coming at ESPN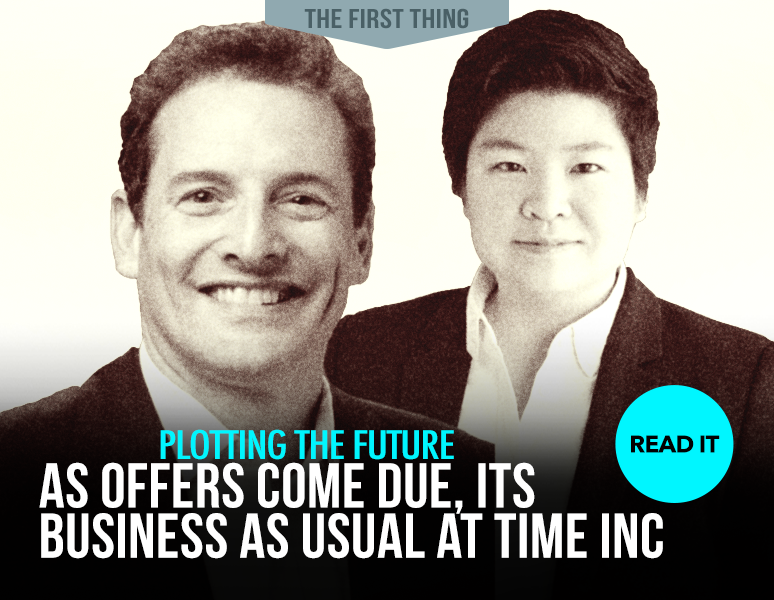 Reviewed by
Editor
on
Monday, March 06, 2017
Rating: