Your Media Morning: Washington Post Is About to Get Much Bigger, Spin Media Reaches The End, Snapchat is Buying Another Start-Up
DISNEY ENJOYING RECORD BOX OFFICE YEAR THANKS TO 'ROGUE ONE'
The Rebel Alliance have 500 million reasons to have their hope restored. Disney estimates Rogue One: A Star Wars Story raked in $64.4 million domestically during the three-day holiday weekend, according to a report distributed
Monday
. That, along with the $47.1 million earned worldwide in the same period, propelled the film to an estimated $523.8 million worldwide.
ANOTHER SOCIAL MEDIA GIANT SCREWS UP ITS VIDEO METRICS
Twitter accidentally over-reported video ad views from its Android app, according to a Business Insider report that has since been confirmed by the company. A bug in the app caused ad viewing numbers to be inflated by as much as 35 percent between November 7 and December 12. Twitter reportedly notified advertisers of the mistake earlier this week, and has since issued refunds for overpaid ad dollars.
SPIN MEDIA REACHES ITS END
Todd Boehly's Prometheus Global Media, which already owns Billboard and The Hollywood Reporter, has signed a deal
Thursday
to buy Vibe and Spin and two other sites from SpinMedia. The Web sites Stereogum and Deathandtaxes will also go to Prometheus in the deal, which is backed by Boehly's investment firm, Eldridge Industries.
SNAPCHAT IS BUYING ISRAELI TECH START-UP CIMAGINE MEDIA
The Venice, Calif., company is paying an estimated $30 million to $40 million, said the Calcalist, a Tel Aviv-based financial newspaper. Cimagine developed True Markerless Augmented Reality — technology that allows users to virtually place furniture and appliances they wish to purchase in the space of their home, via their mobile devices, at the click of a button.
JUKIN MEDIA BUILT A VIRAL VIDEO EMPIRE, HERE IS HOW THEY DID IT
The Jukin Media headquarters, in Culver City, Calif., checks off all the clichés of the modern millennial workplace. The floor plan is cubicle-free and open, with skateboards — well, longboards — leaned insouciantly against more than a few desks. There is a Ping-Pong table, and the kitchen, of course, offers up a bottomless supply of Monster Energy drinks; a selfie stick hangs near a peanut-allergy warning near a fridge stocked with all manner of alternative milks and Greek yogurts.
HULU WINS DISNEY'S CLASSICS IN EXCLUSIVE DEAL. BLOW TO NETFLIX?
Your favorite Disney princesses are headed to Hulu. The streaming service struck an exclusive multi-year deal with Disney, bringing animated classics like "Mulan," "The Princess and the Frog" and "Lilo & Stitch" over to Hulu, along with more than 50 other titles, according to Variety. The partnership will also bring Disney live-action films, like "The Mighty Ducks" and "Air Bud."
NEWSPAPERS ARE STILL A THING FOR 169 MILLION AMERICANS
A Nielsen Scarborough study measured U.S. newspaper readership and found that more than 169 million adults read a newspaper in print, on a Web site or on a mobile app in a month in 2016. In total, newspapers reach 69% of the U.S. population each month. According to the study, 81% of monthly newspaper readers engage with a print product. Some 51% read print exclusively.
WILL ANY OF THESE MEDIA DEALS HAPPEN IN 2017?
NBCUniversal should buy BuzzFeed: Considering that NBCUniversal has already invested $400 million in BuzzFeed — in addition to using BuzzFeed to create Snapchat content during the Olympics as well as a Tasty-branded segment for the "Today Show" — an acquisition feels inevitable. It's a "no-brainer," as one well-placed video source says. "But Jonah [Peretti] doesn't want to sell," says a former BuzzFeed exec. "If it were up to the business side, that would have happened last year."
THE "MAKING" OF A MINI MEDIA MOGUL
When Jared Kushner swooped in to buy the New York Observer in 2006, he embarked on a mini media tour, posing with the paper at parties and sitting down with esteemed media reporters from The New York Times and New York magazine. But after a decade as the owner of the iconic New York newspaper, Kushner appears to be angling for a much quieter exit.
IS FACEBOOK THE DEVIL FOR PUBLISHERS?
One might argue that Facebook behaved with imperious disdain, or callous indifference at best, in its treatment of publishers in the final month of 2016. The social media giant admitted misreporting publishers' Instant Articles, as well as multiple errors regarding the estimated reach of posts, measurement of reactions to streamed videos, its Graph API, and more. This series of revelations came just weeks after the company had made similar disclosures about problems with other video and ad measurement metrics, which had affected both publishers and advertisers.
FAKE NEWS IS A BIGGER PROBLEM FOR FACEBOOK THAN WE THOUGHT
Adding to Facebook's "fake news" woes, fabricated reports caused its Safety Check feature to send out a false alarm
on Tuesday
. After a number of stories reported an explosion in Bangkok, Thailand, the social giant sent one of its Safety Checks to users in the region. Safety Checks lets users tell loved ones they are safe during and after major disasters.
TRUMP, CLINTON, THE KARDASHIANS AND JENNER'S TOPPED TEXTURE'S 2016 LIST OF THE MOST COVERED PEOPLE IN MAGAZINES
"Magazines are fantastic barometers of curiosity and obsession. This year, no one will be shocked that President-elect Donald Trump was the magazine cover king, but it's hard to recall when a potential first daughter or first son-in-law received the coverage that Ivanka Trump, and her husband, Jared Kushner, have received," stated Maggie Murphy, editorial director of Texture.
SOME MAGAZINES ARE TAKING ANOTHER SHOT AT LIFE IN PRINT
At a time when print publications are shuttering their physical editions, Paste is going back to print. The publication, which has been around since 2002, ceased its monthly print edition in 2010. However, it has found that among its 7 million digital readers exists a hankering for a copy of the magazine they can hold in their hands. To meet that demand, it's relaunching a quarterly print edition, which will ship with a vinyl sampler for its readers. The first issue will be March 2017.
-Good Morning
Your Media Morning: Washington Post Is About to Get Much Bigger, Spin Media Reaches The End, Snapchat is Buying Another Start-Up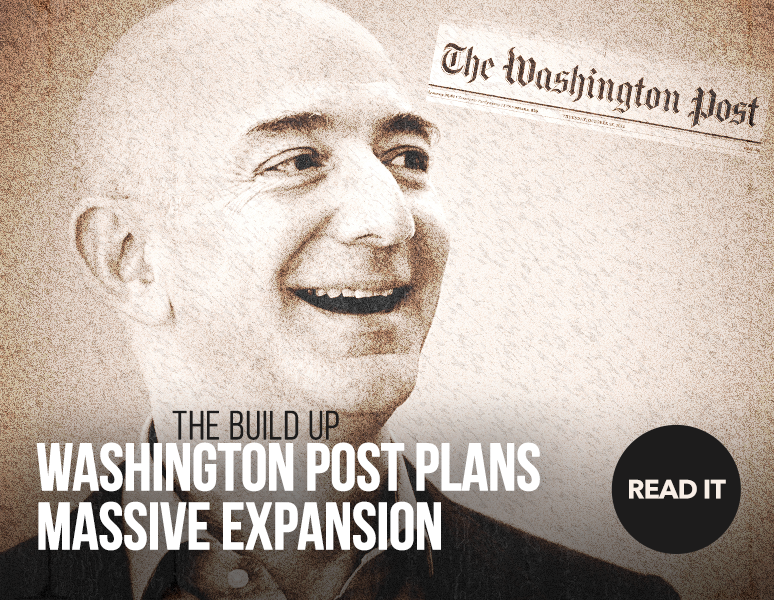 Reviewed by
Editor
on
6:00 AM
Rating: